Courtside Chats With Chip - Finals Wrap
AL ALL-DREAM LEAGUE LIST is OUT!

Last to the party, last left standing.

The Monkey Kings joined the fray late, very late, this season. In fact, it was already a month into the season when they petitioned the DL to come in as the seventh and last team. Most teams had already played three games – pretty much half of a full regular season. No one understands why, but when the Commish got the email from GM George Chan, there was a twinge in his neck forcing him to nod and a soft spot in his heart to say yes.

Despite the website saying that the deadline for getting teams in was absolutely, positively, without a doubt two days before the start of the season no exceptions at all, perhaps the thought of Tony Hu wreaking havoc on bodies, and Nick Mui raining 3's and dropping floaters was too much to ignore. If the public wanted the best, the DL had to allow the best to enter.

But wait, wasn't Mui already on a team? Gen X? Yes.

Wasn't Hu already on a team? No. It only felt that way because he's been a stalwart in the league and we'd just assumed he was always on a team. At the start of this season, he was flying solo, technically a free agent without the NL to play in with his Cruisers and with Quincy Tso too lazy to re-register his DoGGs in to play again. Hey, in Q's defense, the man does have Yankee season tickets, so that doesn't leave a lot of time to play hoop. Hot dogs and hofbraus maybe, but not hoops.

So what, thought Chan – and this is why people call him Crazy George – I'm putting a team in anyways. So, a tampering of pulling Mui away from Gen X here, a send of an email to Hu there, and within 72 hours, the Monkey Kings were born.

Along with Crazy G, Hu, and Mui, would be G's brother Mike Chan, who would prove to be instrumental all season long, enigmatic Wilson Lew, who was the perfect blend of Mui and G with his range and ability and being a little bit crazy himself, newcomer Kevin Quach who quickly made a name for himself as a deadly sniper, veteran Kwok Ng, who not many remember ran on the DLNY squad when they traveled to Houston in 2006 during the NBA All-Star Weekend, and a bit of Talent as in Talent Lam, who simply has the best name in the DL right now. (Where Jin Kye went, no one knows.)

Throw these monkeys together, shake, rattle, and stir and instantly out of the gates, success was bred. The Kings ran off six straight to start the season and only lost their 7th because, well, simply put, Hu nor Mui were there. They they won the rest of their games leading all the way up to the chip when, as fate would have it, they got to face the only team that pinned them with a loss this season, the SK War Dog.

It was a close contest and SK was THIS close to seeing this through to a Game 2, but in the end, the Kings would not be denied. And if you think it was a Hu who led them, you would not be correct.

While Hu garnered a good bulk of the Dogs' attention, and he had a first team All-DL worthy season no doubt, it was Mui who ran the Dogs out of the gym, going for 27 points, 5 boards, 6 assists, and 5 steals. Mui has long been a rising star and one to watch. With this primetime performance on the biggest stage of the season, he cements himself as a star.

Within hours, rampant rumors were confirmed as league sources confirmed that Mui would win the MVP making him the King of all Kings.

Crazy George has promised that this would be the one and only season that his mighty mash-up would be playing in the league.

"We play in so many leagues and I don't like how they schedule," would be what he would offer when asked why not, unwilling to take into account that the fact his team joined over a month into the season made it extremely hard to fulfill his every schedule demand. (The Monkey Kings have had to play doubleheaders and on back to back nights this season in order to make up for lost time.)

If it proves indeed to be their one and only season, it was nice knowing you guys. You have made your mark and will forever go down in history as one of the best the AL had to offer.

You'll also be known as a team who was the last left standing, first to go.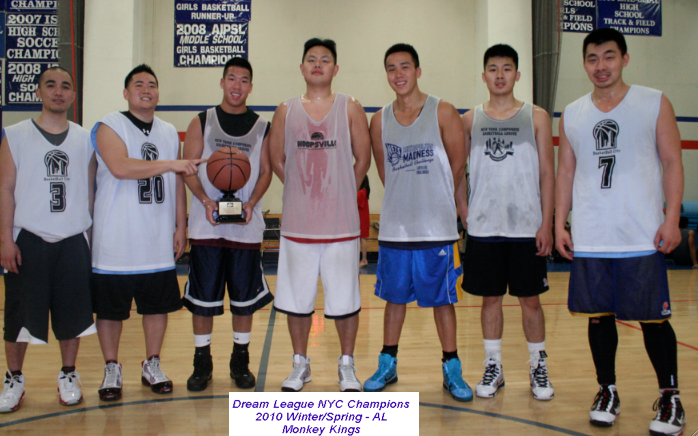 AL CHAMPIONS - Monkey Kings (L to R: K. Ng, W. Lew, N. Mui, T. Hu, K. Quach, M. Chan, G. Chan)
If you're not already following the DLNY fan page on Facebook, add us here: ADD US.