Gotham City Games Review
FOR PHOTOS OF GCG 2009, PLEASE GO TO THE DLNY FACEBOOK PAGE!

As 2009 was a year in which the economy felt the pinch, the 2009 Gotham City Games followed suit.

Less jobs around, less money to spend, less interest from traveling teams to descend upon New York. It's a vicious cycle.

We were looking forward to the DL Bay coming out again to defend their title, but it was not to be. The best Korean team in America based out of Orange County, CA expressed interest, but couldn't get their younger guys to commit. Locally, the Cruisers and Spartans lost key figures for the weekend that rendered them useless to compete on a high level. And while The Unit came, they came severely short handed, missing the likes of Nakul Rao, who has moved off to Philly for residency and parked himself on a bench somewhere stuffing himself silly with cheesesteaks.

Just six teams came to play, by far the smallest field the Gotham City Games has ever had, but the team that won it – the Dream League New York – just might be the best team to have ever participated in the tournament's four years. And, yes, Bay Area, we are putting this squad up against your Josh Urbiztondo led squad of 2008, who many believe was the finest collection of talent together on the court during any Gotham City Games.

Of course, it's a topic open to debate – and one that will likely never be settled, but a fun one to think about nonetheless. Watching the Dream League team at the 09GCG honestly had the feel of watching the Dream Team at the 92 Barcelona Olympics.

Fine, it's ridiculous to even compare the two teams, but on our poorman's bizzaro world level, it's as close as it gets.

Every player on DLNY is an all-star in his own right, but for the weekend, they set aside egos and put in the work they needed to in order to win it all. After going 2-1 in pool play (A loss? How could they be considered the greatest? Well, let's remember that the DL Bay lost a game in pool play as well in '08 and they aren't the Dream Team for reals after all), the DLNY came out on the second day and made mince meat of everyone. In three playoff games, they beat teams by: 36, 28, and 33. The 33-point win happened to be the chip, against the Toronto Tawhid – the one team that beat them in pool play. Talk about exacting revenge.

In their five wins across their tournament, they won by an average of 27.4 ppg. Every member of the team had a dominant stretch at one point or another whether on offense or defense. But what they did best together was work in unison.

It's always a fun thing to watch when the best of the best work well together, but if you're a follower of this tournament, you may ask: how is it this team might be better than any other team this tournament has seen if it was essentially the same roster DLNY had last year?

Oh, young skywalker, but it's not.

Sure, Nic Echevestre and Shawn De Los Reyes, who may not get to tag team again on a tournament stage ever again as NicE is headed back West this summer, were once again at the helm. Yup, Harris Chung was again on the team as this served as his curtain call to the NYC b-ball scene since he literally flew off onwards towards Asia the next day where his new life awaits him. Derik Kumagai flew in from Seattle, where he is now based, for the festivities. Mo Ghumman was still the anchor down low.

No, these familiar faces who came up just short last year, were definitely the same. But add into the mix Tony Hu, who only led the team in scoring (17.0 ppg), throw in a little Kash in the form of Kash Miah, who led the team in 3-point shooting, and Jameel Udeen, who led the team in steals (1.8 spg), and the make-up of the team, while familiar, also completely changed.

They had 5 – and Kash's 9.2 ppg was nearly 6 – players average double digits. 6 players grabbed over 4 rebounds per game. The team shot 51.4% from the field for the whole weekend. (Hu and SDR shot 70%.) DK had a field day handing out assists as the team's motor – 4.7.

There were moments when the game was so simple, so pure, so unadulterated for DLNY, that it seemed they were playing as men amongst boys, thus the comparison to the Dream Team '92. In another world, Udeen picking off a pass, flipping it to DK on the run, who finds Ech ahead who then wraps a pass back to Shawn for an easy two was Stockton to Magic to Michael to Scottie.

Much credit goes to Toronto for defeating DLNY on Saturday – they played a perfect game – but other than that, the DLNY's destiny played out as they planned.

So, even though it was a down year and the field was light, there was some stellar work nonetheless. So stellar, it might have just been the best ever.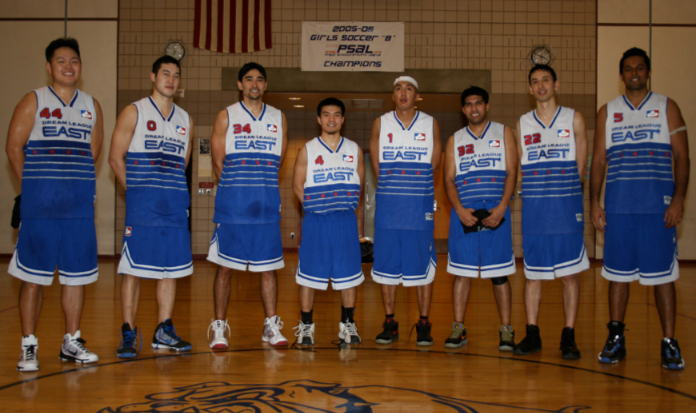 GCG09 CHAMPS - DLNY - L to R: Tony Hu, Harris Chung, Nic Echevestre, Derik Kumagai, Shawn De Los Reyes, Kash Miah, Jameel Udeen, Mo Ghumman.