A Memento From TSIVOS's Championship Season
AAA ALL-DREAM LEAGUE HONORS

Inspired by the movie Memento in which events transpire in reverse chronological order - to further complicate an already long and drawn out day - we give you Arif Ansari's championship day experience:

Good night!

It was 3:30am. Finally he could put his head down.

"The Colts better win on Sunday," he thought, "It would only be right. Karma has to come my way."

As he and the Mrs. finally pulled into the garage, got indoors, and started to get ready for bed after the crazy endless day, he could only think one thing after the hellishly long (but ultimately good) day he went through:

The drive down the turnpike was long, but Ansari wasn't even close to tired. Not after all the events that had just happened that night. So, happily, he drove, even as Sumaiya slept. From one coast to another, 3,000 miles by plane, 200 miles by car, Korean food, a towing incident, and a championship – all in one day? Arif was going to savor every last drop of it.

As he finally left New York City, reflecting on yet another ring to add to his collection, the wonderful Korean food he'd just had in celebration, and then his car getting towed, Ansari could only laugh as he recognized the inanity of it all: His 5th DL championship to move him to the top of individual players with most rings (but he has to pay to play), the delicious dinner that ended at 1:30am (in which he footed half the overall bill), and then the rude awakening that his car was gone (he'd have to pay to get that out of the compound as well as the ensuing ticket that was issued for parking illegally in the first place). When you're a baller and you win titles, you don't pay to play, then pay for dinner, and then pay to get your car out of a towing compound, do you? Would Troy Murphy stand for this??? Hey, life is short, pay hard.

He finally found his car, went through a relatively short process to retrieve it (though it did involve him getting into a police van), and got in the car with his wife. Did this experience dampen his night?

"Yea. They came and towed your car like 45 minutes ago. The alarm was loud," said the doorman. And before the "d" in loud was done, Ansari was in a cab headed towards the impound on West 36th Street and the West Side Highway.

Where was it? Oh no! The horror. This was not the way to end the otherwise perfect night. It was late. There was still a 90-minute drive back home ahead. He did not need this. Stolen? Towed? Thoughts raced through his mind as he dialed 9-1-1 and then thought to ask the doorman of the building the car was parked in front of. With phone to ear, he went into the lobby and asked, "Did you notice any cars getting towed tonight?"

Oh what a delightful meal that was, and now it was time to head home. The perfect meal to cap a perfect night. Ansari left the restaurant with his wife Sumaiya, Andre, and Felix and started heading towards their cars a block over. "I parked next to you," said Andre. "Figures. You always want to be just like me," responded Arif. As they approached to where their cars were, Andre rolled his eyes, hopped into his vehicle, and peeled off while Arif's smile at his own joke turned into a sudden frown when he realized his car wasn't where it should have been.

The sequel to Gone in 60 Seconds could have just been a video camera shooting TSIVOS, friends, and family devouring the food before them. The kalbi, bulgogi, and little dishes laid at their paws didn't stand a chance. But it was well deserved. As they rehashed the season, toasted each other from time to time, Arif thought about his day and how long, crazy, but perfect it had been. He didn't think too long however as he had some kalbi jim to eat! The people ate and ate until all that was essentially left was a few bones and one single piece of kimchi that had dropped to the floor.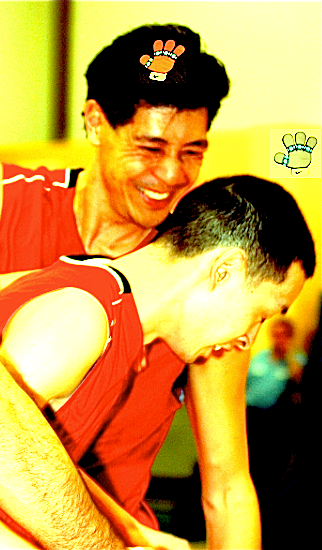 4-Ever: Andre Liu's AAA franchise now has 4 rings.


It was onto K-town for a post-championship celebratory dinner. Kam Gan Sang was about to get a truckload of hungry eaters with a trophy in tow. Maybe the trophy could get its own seat.

"Great job this season guys," said captain Andre, "The trophy this time goes to our glue guy Felix. He kept us together this whole season. But, here, everyone touch it." Arif touched it. "Now, let's go eat!"

As the clock wound down on the 71-60 victory to seal the championship, Arif could hardly contain his emotions as he looked around for someone to hug. The group finally formed a group hug on the court, offering each other high-5's, wedgies, and even overheard, stock tips. ("Buy Brachyportal," Arif offered to Andre, "Trust me on this one.")

51-47 to start the 4th, it was still anyone's game. TSIOVS held the lead, but the always dangerous Kash was liable to go off at any time. Andre knew this. Veterans always know. So, throwing waves of defenders at Kash (how many times he hit the floor, we lost count, and he was held scoreless in the 4th), and getting somewhat lucky that Wilson Lew wasn't hot on this night, OS ran away in the 4th helped by a pair of big time buckets inside by Arif and a free-throw line jumper by Andre that was essentially the nail in the coffin. Dave Wong would get all the headlines the next day with his 28 points, 6 boards, 3 assists, and 3 steals and the fact that he and Ray Huang were named co-MVPs for the season was huge, but Arif's 11 point, 11 rebound double double could not be overlooked. (And neither could Brian Zhang's 8 caroms, 3 assists, 2 steals, and 2 blocks, Andre's 10 points, or Chris Kwan's backbreaking 3's in the 4th on his way to 15 points).

Here in the 3rd, why was everyone looking tired while Arif felt great bounding up and down the court, eating space, scoring 3 points? Oh, that's right, they had all engaged in a heated battle an hour prior in Game 1 of this clash. The Bearmen won that one 81-72 to create this Game 2 in the first place. Arif actually had to be thankful for that. Had the Bearmen lost Game 1, his rushing over from the airport would have been for naught.

In the 2nd, Arif had 2 man-sized moves as he, Dave, and Andre each dropped 4 points to help put OS atop 27-26 at the half. Displaying his deft touch inside with deft feet down low, it was hard to believe that just hours ago, Arif was sitting sedentarily on an airplane coming in from the West Coast.

Game 2 opened up much the way Game 1 ended, with Kash Miah, Ricky Vein, and Eugene Truong dropping buckets for the Bearmen and Dave Wong and Chris Kwan scoring for OS. Wong, in particular, went nuts, scoring 11, hitting 3 straight 3's as his famous bank shot three finally came back to him. (Had he hit one since Bush was in office?) Arif was just trying to get warm. Possibly too much clam chowder during the week had clammed his game up.

As he rushed in, he proclaimed, "I am here!" And not a moment too soon for the once and for all game was just about to tip. A sigh of relief came from Andre and BZ, who wasn't sure he could duplicate his 10-point effort again as the only big man in Game 1 for OS.

Fighting red lights, traffic, and the annoying Taylor Swift song on the radio, Arif made a right onto 75th, saw a spot and jammed his car into a space two sizes too small. "Finally!" he thought with beads of sweat forming on his head as he parked, grabbed his gear, and ran into the stadium.

As his plane finally landed in Philadelphia at just past 4:00pm EST, Arif thought about how he would have to get in his car, stop at home in Central Jersey, and then head on up to Manhattan for the championship night. Would he make it on time for Game 1? Would it be worth breaking his back to get there? Where was the kind of car service Allen Iverson gets when he lands in Philly when one really needed it? It simply wasn't going to happen. So, he slowed his pace a little and moseyed home thinking that perhaps OS would clinch it in Game 1. When he found out through a text that there would be a Game 2, he pulled a 180. As fast as his favorite running back, Joseph Addai of his favorite team – the Indianapolis Colts - could run, Arif was on the turnpike headed north to get to Game 2.

He would just have to sit back and try to relax. There was still 5 and a half hours of flying time ahead of him. But his mind wouldn't let him chill. He wanted to play. The team had come this far on this long season and how could he miss out on the end? C'mon plane, go faster!

At just past 6:00am PST, Arif got dropped off at SFO by a friend, who he now owes the favor of a lifetime, for his 7:00am flight. Even as he checked in, went through security, and got a muffin at a Starbuck's stop, he couldn't stop thinking about joining TSIVOS that night in trying to recapture the throne they've held on three other occasions. He couldn't wait. But he worried. Where he was at the present and where he would have to be in the future that same day seemed like worlds away.

Arif Ansari woke to the sound of an alarm clock that read 4:45am. He was in San Francisco, CA. He had just finished attending a conference for his day job. The basketball player in him was anxious. In SF now, he had to be in NYC that night as his TSIVOS were to take on the Bearmen in the AAA Finals in a possible 2-game set, depending on how Game 1 went. This was going to be an interesting day and it was just getting started. Toothbrush, where are you?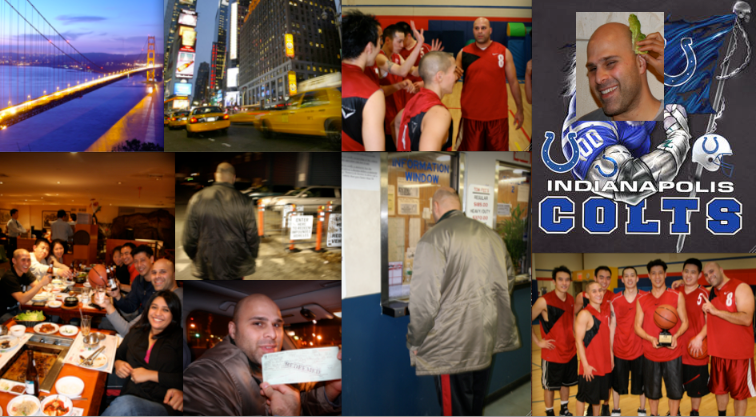 All in a day's work: Ansari went from SF to NYC to winning the chip to celebrating in K-town to getting his car towed to dreamin of an Indy Super Bowl.