info(at)dreamleague(dot)org

---

facebook | twitter

---

New site!!!: DRMLG.ORG
DREAMLEAGUE HOME
Poor Man's Commish
SEASON HOME
SCHEDULE/SCORES
STANDINGS/TEAMS
PLAYER STATS

RULES & REGULATIONS
ABOUT US

REGISTRATION

DONATE

ONLINE WAIVER

HELP/COMMENTS


---

2010 Fall Saturdays in SF (9/18-11/6)

---

2010 Fall Bay Area Sundays (9/19-12/19)

---

2010 Summer Bay Area season (6/6 thru 9/12)

---

2010 Summer NYC AAA

---


SUMMER VEGAS TOURNEYS
ELITE/6FT+1/Masters/INT
Sep 11-12, 2010 - SIGNUP!!

---

HAITI RELIEF
Donate $10 text HAITI to 90999

---

Support Jeremy Lin! Harvard at Columbia (NYC) 1/29/2010

---


NYC TOURNEY - 2008 results

---


2009 GOLDRUSH INFO

---

2011 LA Showcase SIGNUP!
2010 LA Showcase results



---

---

New site!!!: DRMLG.ORG
DREAMLEAGUE HOME
Poor Man's Commish
SEASON HOME
SCHEDULE/SCORES
STANDINGS/TEAMS
PLAYER STATS

RULES & REGULATIONS
ABOUT US

REGISTRATION

DONATE

ONLINE WAIVER

HELP/COMMENTS

Tri-State InvAsian 51, Ghee Unit 44
One Fat (Burger) Game, Won by TSIV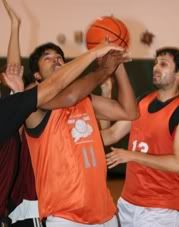 Hack-a-Rock.


August 22, 2006 – Jersey City, NJ (DL) – Two words: Fat Burger.

The game between the defending champs Ghee Unit and the Tri-State InvAsian was not about a round ball.

It was about a round bun. With a pound of meat in the middle. Topped with chili and a fried egg.

Ah, the King Burger from Fat Burger. Winners – and losers – after the game would get to sink their teeth into it.

From the moment League officials found out that they would have to move their games to a special Tuesday night session at the Golden Door Charter School in Jersey City, NJ, the thought of the best California burger chain (yes, better than In N Out) sprung to mind.

Forget that this game had Civil War-like qualities to it.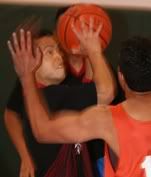 Ow blows to hole.


Forget that the defending champs were hungry (not in the literal sense of the word) for their first win after coming off a double overtime defeat to M&A 10 days back.

Forget that Varun Bhartiya came to the arena with no shoes.

This game was about one thing and one thing only.

Some time in 2005, Mr. Fat Burger decided it wise to open a spot in Jersey City to tease New Yorkers with the taste of their special menu. Nestled in a small cove just 2 miles away from Manhattan (but needing a PATH train or Holland Tunnel hop to get there – ehgads, what New Yorkers would use those things?), great would be the day when native Californians and wanna-be Californians would get to sink their teeth into what is considered a life-changing meal.

That day was today.

The captains of Ghee and Tri-State – Arif Ansari and Andre Liu – New Jerseyites through and through – even knew it.

Jiang can't refrain.


Because the two have been spending much quality time together on the turnpike when they commute from Princeton for games (and play in a Princeton local 4 on 4 YMCA league together) – along with Tri-State forward Swishy Rassiwalla – these members of the opposing teams have become brothers in arms.

Their minds, as they drove up today, were not on how they would handle each other's teams on the court, but rather on what they were going to order from the FB.

Don't believe it?

Why is it then that these two basketball fiends, who are willing to log hundreds of miles each week in the name of basketball, found themselves at Fat Burger instead of the gym as game time neared?

Andre had printed out directions from Princeton to Fat Burger instead of the gym.

A subconscious mistake? Maybe. Maybe not.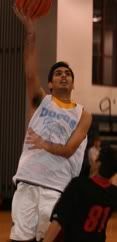 Benda like Menda.


Deciding that eating a King and then playing might not be the best idea, the boys eventually let go of the idea of ordering first and found their way to the game.

Ah, the game.

Yeah, that went on alright. It was a taught, tight game throughout.

Ghee looked great early as they jumped ahead 7-0 on a quick drive by Bhartiya (who found shoes to play in) and 5 points by Nazar Khan.

Tri-State, initially looking like they had eaten a dozen burgers prior to the game, patiently worked their way back into the game as Jiang Yu established his presence down low (6 1st quarter points) and swingman Ming Mui dropped a deuce and a three from outside.

Aamir Chima and Rock Reddy would drop bombs as well however and Ghee held the lead 15-11 after one.

Just 3 quarters left till eatin' time.

Arif needs only one hand.


Tri grabbed their first lead of the game when they reeled off a 6-0 run to start the 2nd as Dave Wong dropped a dime to Yu and then floated a shot over the long arm of the law – Punit Menda the rim benda.

While Ghee has Rock Reddy, it was Tri's point Owen Wang who was steady as could be as he chewed up the Ghee D with a slice drive and then bombed away while providing hounding defense up top that staked his team to a 24-20 halftime lead.

Ghee could only connect on 2/10 from the field in the 2nd and looked as bad in the quarter as they did good in the 1st.

The best thing that could be said about the 2nd, according to Ansari, was that – only two more quarters till the moment everyone was waiting for.

While Yu and Jason Yee, the Tri-State towering tandem, made their mark in the 1st half by battling toe to toe with the Ghee Trees (not many can say that), the 2nd half was all about the little guys.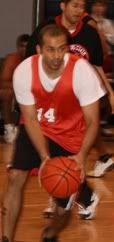 Manoj maneuvers.


Wong and Mui scored all 11 of Tri's 3rd quarter points and at one point opened up an 11 point lead, 35-24, before Bhartiya's 3 cut it to 8 heading into the 4th.

One more quarter and this annoying little basketball game would be over with so that the fellas could do what they came to JC to do – and that wasn't to play ball.

While Khan knocked down a couple jumpers at the start of the 4th, Tri-State would never relinquish their comfort zone 5-8 point lead.

Manoj Khan's triple at 4:09 started an 8-2 run by Ghee that closed the score to 45-40 by the 52 second mark but in the final minute of the game, Tri-State (3-0) played keep away and earned the right to be King (burgers) from the line, going 6/8 from the stripe to close the game out 51-44.

Wang, who scored 9 consecutive points in the 4th for Tri, finished with 14 points, 3 assists, and 4 steals. Yu totaled 13 points and 9 boards while Yee helped out on the glass with 10. Mui mercilessly led the game with 15 points including 3/5 from downtown.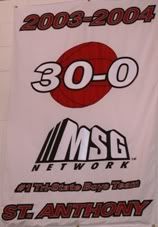 These hallowed halls.


Bhartiya, liking the kicks he found (who doesn't bring shoes to a game?), rocked a 12 point, 11 board double double but was so dissatisfied after the game that he didn't even take the King Burger that was pipin' hot and waitin' for him.

His mate Ansari, however, did. He, along with Liu and crew wasted no time as soon as the game ended.

The burgers, fries, and shakes were already waiting as a kind soul went out and brought them back as the guys were playing.

Without so much as a hand washing, the hungry guys tore open the bags, tore through the food, and Arif proclaimed that indeed, "This is the best burger in all the land!"

Andre's team may have won the game, but both he and Arif were winners.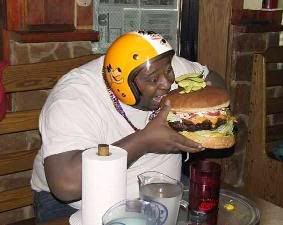 The real prize after the game: FAT BURGER!
Everyone had one but 'Dre.
Score by Quarters
| Team | Q1 | Q2 | Q3 | Q4 | OT | Total |
| --- | --- | --- | --- | --- | --- | --- |
| Tri-State InvAsian | 11 | 13 | 11 | 16 | - | 51 |
| Ghee Unit | 15 | 5 | 7 | 17 | - | 44 |
Boxscore
Tri-State InvAsian - 51
Player
FG
3PT
FT
REB
AST
STL
BLK
TO
F
PTS
Lam, Johnny
DNP
Liu, Andre
0 / 1 [0.000]
0 / 1 [0.000]
0 / 0 [0.000]
2
0
1
0
0
0
0
Mui, Ming
4 / 7 [0.571]
3 / 5 [0.600]
4 / 4 [1.000]
2
2
1
0
1
2
15
Rassiwalla, Sabir
0 / 0 [0.000]
0 / 0 [0.000]
0 / 0 [0.000]
2
0
0
1
1
3
0
Wang, Owen
3 / 8 [0.375]
2 / 3 [0.667]
6 / 8 [0.750]
3
3
4
0
3
0
14
Wong, David
3 / 15 [0.200]
0 / 3 [0.000]
1 / 4 [0.250]
4
1
2
0
1
1
7
Yee, Jason
1 / 8 [0.125]
0 / 0 [0.000]
0 / 0 [0.000]
10
0
0
2
1
4
2
Yu, Jiang
5 / 14 [0.357]
0 / 1 [0.000]
3 / 6 [0.500]
9
1
2
0
1
3
13
16 / 53 [0.302]
5 / 13 [0.385]
14 / 22 [0.636]
32
7
10
3
8
13
51
Ghee Unit - 44
Player
FG
3PT
FT
REB
AST
STL
BLK
TO
F
PTS
Ansari, Arif
2 / 8 [0.250]
0 / 2 [0.000]
0 / 0 [0.000]
6
1
0
0
3
2
4
Chima, Amir
3 / 6 [0.500]
1 / 3 [0.333]
0 / 0 [0.000]
0
2
0
0
0
3
7
Chintha, Daniel
DNP
Chothi, Sunil-Mo
DNP
Ghumman, Mo
DNP
Govani, Aly
DNP
Hoque, Mo
DNP
Jhaveri, Nihar
DNP
Khan, Manoj
1 / 5 [0.200]
1 / 5 [0.200]
0 / 0 [0.000]
1
1
1
0
4
5
3
Khan, Nazar
4 / 9 [0.444]
0 / 1 [0.000]
2 / 3 [0.667]
5
1
1
2
2
3
10
Manocha, Varun
5 / 15 [0.333]
2 / 4 [0.500]
0 / 0 [0.000]
11
0
0
1
2
3
12
Menda, Punit
1 / 11 [0.091]
0 / 5 [0.000]
0 / 4 [0.000]
7
3
1
2
2
0
2
Momin, Shaheed
DNP
Nausrudeen, Usama
DNP
Owh, Mike
DNP
Reddy, Rock
2 / 4 [0.500]
2 / 2 [1.000]
0 / 0 [0.000]
4
0
0
0
0
1
6
Singh, Eke
DNP
Tewary, Akshat
DNP
18 / 58 [0.310]
6 / 22 [0.273]
2 / 7 [0.286]
34
8
3
5
13
17
44
Referees