I know many of you – and you know who you are – consider yourself a K-town Cowboy. C'mon just admit it, you fancy yourself one. I know at one point in the past I may have been considered an honorary one. And I'm having such a good time watching this internet seriers K-town Cowboys that your old deputy commish Sung-Mo Cho is involved in, that I can't tell the difference between fantasy and reality. The latest episode just dropped and watching these guys hang in a bar talking nonsense is exactly how I remember it once was and how I am 100% proof positive it still is inside of K-town.

Watch, laugh, and if perhaps you're Arif Ansari and only know the K-town BBQ joints, learn.

Learn you this too – in a parallel universe right now, Jeremy Lin – yes, he's still around - is working out like he's never before in Las Vegas in preparation for the NBA draft. He's doing battle with the likes of Sherron Collins at the moment while undergoing strength training with famed hoops trainer Joe Abunassar (who has worked with KG, VC, D-Ho, CB-3 and more in the past.) Private workouts with teams are coming up next.

Keeping tabs on life in K-town and on JL4? Ain't that what life's all about if you're a baller in the DL?


Shot by new DL'er E. Leong.


Well, let's let me keep tabs on you for the Playoffs are in full effect!

This season looks like it's going to be simple. So far, seeds are holding, 5-7 are already one and done and on Sunday 1 outlasted 4 in a double OT classic that is going to take some time for Who Dat to recover from.

Last Wednesday, 4-seed SKWD laid waste to TSIV who laid waste to the entire DL all season long by wasting everyone's time by either not showing up, coming with just 3 players, or just in general disrespecting anything and everything and everyone in their way by desecrating the rules of the game. We have never said anything bad about anyone, but this is one relieved fella for seeing this season come to an end for these guys. They made it awfully hard. And it's hard to believe this franchise has lineage that traces back to one of the pillars of the DL in Andre Liu. Andre is having a baby while his first team ever completely loses a grip on reality. The world works in mysterious ways.

With the win, SK jumps ahead into a winner's bracket quarterfinal tonight against 2-seed Queens Elite. My, my, my – what a dandy this could have been but might not be. Two studs - Yoshi Kagitomi and Mo Ghumman will likely be missing for this monstrous match-up as both guys will be teammates while their respective teams battle it out in the DL in a playoff game in another league in which their presence is obviously more requested than here. The loss of either essentially cancels each other out, but it's a far greater loss to the DL that Y2K isn't going to be present for the man's days here are numbered.

After countless minutes, memories, a few dunks (he had one last week!), and an impressive white suit/pink shirt combo when last we saw him, it's likely that Y2K will only have but 2-3 games left in him in the DL. Tonight would have been one of those games. Now, it's just one or two and I, for one, am sadder than sad to see the dude go. The only thing that makes me happy is knowing that he could find his old teammate Jon Guilfoile out in Tokyo and they could revive the Funkytown Ballers once again. Maybe they could invite Paul Ohshima to join them and then if any of you should ever find yourself in Japan and have a hankering to ball, all you'd have to do is plug right into them. I'm focusing on the good here, work with me.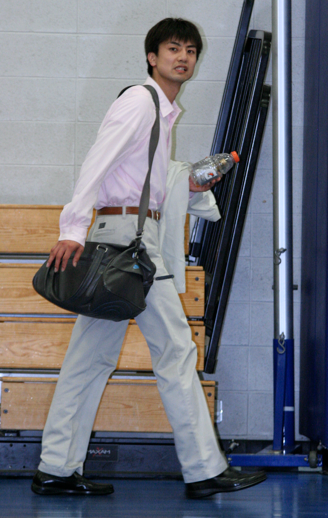 Lookin' like a pimp, Y2K!


QE arrived into tonight's game with a 65-52 shutdown of Gen X, relieving Gen X of having to endure any more of this tough season in which they had 9 different starting line-ups in 9 games. They may have a future to build off of as a member of their past just returned to NYC, but his name is neither Cho, Chock, Ohshima, or Wang, so time will tell. For QE, the 2-seed, they look ready to rumble through the playoffs, hoping to finish what they started last season in which they made it to the chip, but fell just short. With the imminent departure of Y2K serving as motivation this season, I gotta like their chances.

The one team standing in their way that concerns them though is obviously the overall 1-seed – Monkey Kings. On Sunday, the Monkey Kings outlasted a Who Dat team who arrived into that game by virtue of a quick 82-56 decision over the Ridgewood Vets last Thursday. For WD, at least Brian Liang has been playing out of his mind averaging 22.5 ppg and 9.5 rpg in the 2 games (not to mention similar stats in a day long WTA FastbreakNYC tournament on Saturday) and they, despite the double OT loss to MK, survive to see another day since they had double-e.

The Monkey Kings, who have beaten Who Dat in consecutive weeks now by a total of 7 points and 3 overtimes, could do without facing WD again, but they certainly have their number. It was Nick Mui who saved them from falling into the loser's bracket on Sunday by dialing up long distance, hitting a long 3 at the end of regulation to send the game into OT. Why WD decided to triple team Tony Hu at the 3-point line is beyond anyone, but credit Hu for flipping the ball over to a wide open Mui who nailed the shot that essentially deflated Who Dat, who just didn't have the oomph left to finish the job in OT.

Okay, so QE has to get by SK tonight, before they face the awaiting Monkeys, but from the way Ghumman and Andre Liu are spinning it, it's a War Dog loss from the get-go. No Mo, no Liu, no Nazar Khan. SK will play just 5 while QE will still be stacked even without Y2K.

Man, Andre, you have one baby and all your AL teams fall to pieces. That child better be something else.