info(at)dreamleague(dot)org

---

facebook | twitter

---

New site!!!: DRMLG.ORG
DREAMLEAGUE HOME
Poor Man's Commish
SEASON HOME
SCHEDULE/SCORES
STANDINGS/TEAMS
PLAYER STATS

RULES & REGULATIONS
ABOUT US

REGISTRATION

DONATE

ONLINE WAIVER

HELP/COMMENTS


---

2010 Fall Saturdays in SF (9/18-11/6)

---

2010 Fall Bay Area Sundays (9/19-12/19)

---

2010 Summer Bay Area season (6/6 thru 9/12)

---

2010 Summer NYC AAA

---


SUMMER VEGAS TOURNEYS
ELITE/6FT+1/Masters/INT
Sep 11-12, 2010 - SIGNUP!!

---

HAITI RELIEF
Donate $10 text HAITI to 90999

---

Support Jeremy Lin! Harvard at Columbia (NYC) 1/29/2010

---


NYC TOURNEY - 2008 results

---


2009 GOLDRUSH INFO

---

2011 LA Showcase SIGNUP!
2010 LA Showcase results



---

---

New site!!!: DRMLG.ORG
DREAMLEAGUE HOME
Poor Man's Commish
SEASON HOME
SCHEDULE/SCORES
STANDINGS/TEAMS
PLAYER STATS

RULES & REGULATIONS
ABOUT US

REGISTRATION

DONATE

ONLINE WAIVER

HELP/COMMENTS

2009`Fall/Winter AAA (NYC)
VINSANITY TRIPLE A TIMES (10/18/09)
Randomness...

- So I was walking down Roebling St. in BK en route to the subway and there are dudes handing out free bibles on the street corner. I grab one of the pocket-size tomes and the first thing that comes to mind is that the book's pebbled orange cover is eerily reminiscent of the look and feel of a basketball. It even smelled like a new ball. Yes, I smelled it. (what is wrong with me?)

- I'm convinced that I have an NBA Jersey Curse. This basically means that whenever I buy a jersey of a current player, he soon gets traded to another team (making the jersey irrelevant). The jersey that started it all was a Boris Diaw #3 Phoenix Away jersey. Now the curse has struck again with my Stephen Jackson #1 Away jersey. As you NBA heads may know, "Stack Jack" is acting up and now wants out of Golden State via trade. What does this all mean? Two things I guess: (1) that I should stop buying NBA jerseys and (2) that I am open to accepting NBA jerseys as gifts from you guys of players you hope are moved. I can already see the Sasha Vujacic jerseys showing up in bundles in my mailbox...

- I was sick in bed yesterday, so I decided to watch one of my guilty pleasures to lift my spirits. Yes, readers, the Island of Dr. Moreau always does the trick. One of those flicks that are so utterly bad they reach a brilliant, almost sublime, level. This quote, taken from an old EW.com article on "Guilty Camp Classics" sums it up best:

"From the moment Brando glides on screen -- covered in whiteface and wrapped, Christo-like, in muslin, using that prissy, quasi-British accent he mothballed after Superman and looking like Divine playing Bette Davis imitating Katharine Hepburn in The African Queen -- you know greatness is within reach. Brando mutters; he blithers; he gesticulates; he wears a bucket on his head (just because); he spurts non sequiturs; he eats (a lot); he drifts. In other words, he acts with the untrammeled lunacy of someone who has finally realized that nobody is ever going to say no to him. Close by his side is Nelson de la Rosa, the tiny (28-inch, 22-pound) adult actor cast, with typical sensitivity, as a freakazoid monkey boy. Brando reportedly took a shine to his colleague during production; perhaps he mistook him for a snack, or an Oscar. The two wear matching muumuus throughout and duet, sublimely, on piano. Need I explain that one piano is huge and one is tiny?"

If that snippet doesn't make you want to watch it, you aren't human. Netflix it, NOW!

- How's about Dream League SF's Commish Rich Twu's unabashed man-crush on Jeremy Lin? His article is 1,869 words long...and that's only Part 1!

- If you haven't already, make sure to peep the NBA's newly-released Video Rulebook. Pretty nifty way to see "official" video examples of violations and, on the flipside, examples of legal maneuvers. So I guess you can perfect that jump-stop or dribble move your pick-up buddies always get on you for.

(Winners in BOLD)

Bearmen 2.0 69 @ NY Lions 51

Danny Chin and Kash Miah (aka. the Dynamic Duo of the AAA) saw the Lions and their league-worst 68 Points Allowed per game on the schedule and started salivating so uncontrollably that they required crab bibs (oh, man, if you're ever in LA, go HERE - you will thank me)...Danny wasted no time capitalizing on the Lions' porous D and had the game of his life, posting 28 pts (11/20, 55% FG...5/10, 50% 3PT)/13 reb/5 ast/5 stl/4 blk...Miah had a bad shooting night by his standards, going 2/9 from downtown and 6/22 (27% FG) from the field, but still managed an all-around 16 pts/9 reb/4 ast/7 stl(!)/blk...Wow, big in-article blunder on my part. Mike Chin makes these guys a Trio. He had a great game of his own, posting 12 pts/8 ast/2 stl. His 5.6 APG is now 2nd in the league. It should be noted that Danny's 5.4 APG is 3rd. This team sure does share the rock...

On the losing end, Leighton Kuet did what he does best - which is pretty much anything he is needed to do on the court. And on this struggling Lions squad, that's everything. Kuet put the team on his shoulders yet again and notched 22 pts/16 reb/2 ast/stl. On a side note, there has been speculation on what Leighton does for a living. Guesses have ranged from a corporate "suit" to a personal trainer to NY-based celebs. I'm going with the latter...Vince Morales contributed with 11 pts/7 reb/ast/2 stl...Well-rounded efforts from Ricky Ho (6 pts/3 reb/5 ast/5 stl) and Hanson Hui (6 pts/7 reb/5 ast) as well...Lions can't afford to lose another game to keep double-elim hopes alive...

Team Wet 33 @ Run & Gun 43

So it looks like the Oldboys changed their name to Team Wet in a fit of some sort of wet inspiration. I'm guessing the switch kinda backfired, as they were anything but - shooting an ugly 11/45 (24% FG) as a team. I mean, if sharpshooter Ace Watana goes 0-6, you know you're in for a long night, just saying...Elitar Kim still managed to post a good line in spite of the loss: 14 pts/8 reb/ast/stl...Sam Nam did not want any part of the brickfest (only attempting and missing 2 shots), but ended up with 2 pts/13 reb/stl/2 blk...

Run & Gun's "W" was pretty weird in its own right...only one player scored in double-figures - team-leading scorer on the season Tommy Zheng (12 pts/reb/ast/3 stl)...four others (I'm guessing the other starters) had at least 7 pts: Wai Chang (7 pts/3 reb/4 ast), Tim Chin (8 pts/6 reb/stl), Leon Chu (7 pts/3 reb/3 ast/stl/blk), and Thomas Sze (8 pts/3 reb)...they now have to key in on nabbing one more win to get that huge double-elim status for the Playoffs (which seem to be just around the corner, along with the bitter winter cold)...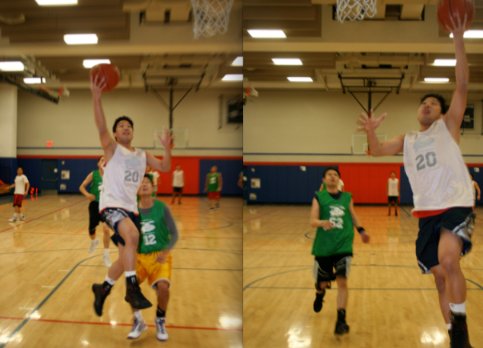 A Lam shall lead them: JL goes right and left with equal aplomb.


New Blood 49 @ Baroness 41

...and the New Blood train keeps on chugging. This win was their third in a row (4-1) and helped them clinch double-elim status...as usual, James Lam brought the scoring punch to the New Blood attack: 23 pts (game-high)/reb/3 ast/stl...Charles Lam (note to self: the Lam's are brothers/twins, but i wonder what's with all these like-named ballers...might be interesting to see how many players in the DL are actually related) showed off some versatility with his 10 pts/4 reb/4 ast/5 stl. And on that note, so did Jason Kwok: 8 pts/7 reb/6 ast/4 stl/blk...Joe Yen provided the board help as usual: 8 pts/12 reb/ast/blk...oddly, normally dependable Captain Nick Gao had a subpar game this week (only recording 2 reb and a stl). I'm guessing he got hurt early and spent the rest of the game browsing new apps from his iPhone for his potential postgame nosh spot/watering hole...actually, my sources told me that this is in fact what happened.

Baroness put up a good fight, matching New Blood bucket for bucket until a devastating 22-6 run buried them in the 4th Q. It can also be argued that the 22 turnovers (to New Blood's 11) were a factor in the loss...Eric Rhee (who apparently is a funky fresh DJ to boot) easily had his best game of the season, recording 19 pts (5/11, 46% FG...perfect 7/7 from the line)/8 reb/4 ast...complementing his efforts were those of hardworking widebody Noh-Joon Choo: 16 pts/4 reb/3 stl...no doubt helped by Rhee's hyper-accurate 7/7 day from the line, Baroness as a team shot an eye-popping 9/10 (90% FT) from the line...

Thelonious Dunk 31 @ NYC Gritty Committee 64

Thelonious were dealt a reality check by the Gritty Committee. On a high after a 2-game win streak (including a 36 point blowout win over the Lions), they ended up on the other end, getting thrashed by 33. And yes, their full squad was in attendance...Simply put, they couldn't sink a shot or grab a board to save their life - 2 keys to winning (along with having good hair and sick kicks, naturally). As a team, they shot a ghastly 13/61 (21% FG) from the field and were vastly outrebounded (27 to Gritty's 53)...How ugly was it? Well, one game removed from dropping 21, Dave Wang only managed 2 points on a 1/14 night...Mark Lee wasn't spared either. A game after dropping a ridic 34, the Basketball Gods brought him down to Earth. Lee only had 8 on 3/15 (20% FG)...

Gritty improved to 4-0 with this win, clinching double-elim (recurring theme this week, no?)...Kwon Lim once again paced the team in scoring with his 17 pts to go along with 9 boards, 2 dimes, and 3 steals...John Park further cemented his standing as the AAA's premier assist man with his 10 pts/5 reb/7 ast...Kyu Lee chipped in with a nice double-double: 12 pts/11 reb/stl/2 blk...and I'm guessing Thelonius were wary to venture in the paint with Vic Chia's huge frame looming in there. Chia had 6 pts/13 reb/ast/2 stl/5 blk...at this point in the season, would it be jumping the gun to dub the Committee as the team to beat this season? I guess we'll find out soon enough...

Team Biny 42 @ NYC Gritty Committee 60

...and the answer is YES, the Committee are the team to beat. Quick huh? I guess that's the beauty of two games in a week. With this win, their record is now 5-0, making them the sole unbeaten squad in the AAA. Impressive work. Now let's see if they can carry this momentum throughout...Kenneth Van's inspired play led to his best performance of the season so far. He put up 23 pts (game-high) and pulled down 8 boards...Van was the recipient of many a scrumptious dish from John Park (whose surname would be more fitting if it were Stockton, in honor of "He Who Shall Wear Short Shorts Up Into The 21st Century"). Park finished with 11 pts/3 reb/10 ast...Who is Dave Kim, where did he come from, and where can teams find another guy like him to show up and drop a double-double just like that? 12 pts/12 reb/blk straight off the street, all incognito-like...Vic Chia had a Vic Chia-type night. You know the deal - 8 pts/15 reb/4 ast/2 stl/2 blk...

Team Biny suffered a similar fate to the team the Committee just vanquished (Thelonious Dunk). That is, they couldn't shoot and board to save their life. They shot 16/48 (33% FG) as a team and only grabbed 24 rebounds (to Gritty's 42)...You can't fault Chris Di for not trying. Di was the best thing going for Biny this game, notching 19 pts/13 reb/2 ast/2 stl...Supporting him were Eden Chuang (8 pts/2 reb/2 ast/stl) and Danny Lee (7 pts/2 reb/2 ast/stl) but alas, it was not enough...Biny is in a tough spot after dropping this game and must win the rest of their games to get double-elim...how the tides have turned for last year's champs...