info(at)dreamleague(dot)org

---

facebook | twitter

---

New site!!!: DRMLG.ORG
DREAMLEAGUE HOME
Poor Man's Commish
SEASON HOME
SCHEDULE/SCORES
STANDINGS/TEAMS
PLAYER STATS

RULES & REGULATIONS
ABOUT US

REGISTRATION

DONATE

ONLINE WAIVER

HELP/COMMENTS


---

2010 Fall Saturdays in SF (9/18-11/6)

---

2010 Fall Bay Area Sundays (9/19-12/19)

---

2010 Summer Bay Area season (6/6 thru 9/12)

---

2010 Summer NYC AAA

---


SUMMER VEGAS TOURNEYS
ELITE/6FT+1/Masters/INT
Sep 11-12, 2010 - SIGNUP!!

---

HAITI RELIEF
Donate $10 text HAITI to 90999

---

Support Jeremy Lin! Harvard at Columbia (NYC) 1/29/2010

---


NYC TOURNEY - 2008 results

---


2009 GOLDRUSH INFO

---

2011 LA Showcase SIGNUP!
2010 LA Showcase results



---

---

New site!!!: DRMLG.ORG
DREAMLEAGUE HOME
Poor Man's Commish
SEASON HOME
SCHEDULE/SCORES
STANDINGS/TEAMS
PLAYER STATS

RULES & REGULATIONS
ABOUT US

REGISTRATION

DONATE

ONLINE WAIVER

HELP/COMMENTS

2008_Gotham City Games (New York)
The Best, The Most, The Worst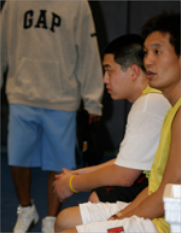 Glass just can't believe it.


Best Game: Easily the New York D-Unit's upset over the DLBA. The DLBA lost their first game of the tournament, which turned out to be the tough luck D-Unit's lone win of the games. In it, Nakul Rao scorched for 29 points while Varun Bhartiya Manocha and Tommy James added 14 and 12. The DLBA perhaps was a little overconfident in coming in thinking they would sweep through the tourney. Well, the loss certainly got their attention. From there on out, they got it together and wouldn't lose again.

Best Individual Performance: The MVP, Josh Urbiztondo, went off for 42 points in a 94-71 semifinal win over the RL Cruisers. It's safe to say RL hasn't seen someone like JU in awhile, if ever. He had 28 in the 2nd quarter alone. Disgusting. JU, take your game to the PBA and leave us alone already!

Worst Luck Team: It'd be easy to say it was the D-Unit who had the toughest round robin in the field, getting stuck with the DLBA and the Cruisers in the same bracket while drawing DLNY in their cross-pool game, but while that was tough, your heart had to go out to Glass Tiger. They finished 0-3 in pool play but lost one on a controversial basket at the buzzer by Boston's Joe Brush (replays seem to indicate his shot came after the horn) and another on a 1-point decision to the Dirty South after they had come from behind to snag the lead in the dying seconds (an illegal player named Joseph Chin, who actually ran on the USAB Warriors did it no less).

Most Studious Player: This would have to go to the DLNY's Nic Echevestre who is more accustomed to being labeled the MVP of these such tournaments. NicE, a second-year law student at Columbia, split his weekend between studying for finals and playing in the GCG. After the DLNY won two games on Saturday, he split before the 3rd one so he could get back to NYC to study, and then, the next day, he missed out on DLNY's quarterfinal game against the D-Unit, most of their game against the Fury, before playing in the chip. It's no wonder he never truly got on a track all weekend and played to his potential.



Echevestre was spent from studying. Margate didn't care.


Most Divided Team: SKWD players made no bones about it. There was a certain someone on their team they had a hard time playing with. He never met a shot he didn't like, and as the losses mounted for SKWD, he didn't even bother returning for Day 2. Still, while they discussed it over chips and dip at dinner on Saturday night at Applebee's, they bounced back on Sunday to win the Consolation Final, beating the Boston Knights 64-54.

Player Whose Situation Changed the Most Since GCG 2007: Poor Balbir Padda The 6'7" do-it-all player, who was a co-MVP last year, couldn't have missed his tag-team partner more. With Paul Phangureh out due to finals at UC Davis and the defending champs NJ/Cali Soormay Franchise electing to sit it out, Padda jumped over to the New York Warriors where he became like Shawn Marion in going from the Phoenix Suns to Miami Heat - penthouse to outhouse – championship caliber to 1-2 and one and done in the playoffs.

Team Whose Situation Changed the Most Since GCG 2007: Last year's runner ups, Philly FAY, returned, but it never seemed they really did. They went 2-1 in the round robin and then left with a whimper in the playoffs, losing by 20 to the New York Fury. Okay, they were without Naveen Mohiuddin who is as slick as butter, but pretty much everyone was back and they expected themselves to make a go at it again. Alas, in the end, it was a like UCONN losing Rip Hamilton and still trying to be the same UCONN the next year. Without Mohiuddin, FAY made like Houdini and vanished.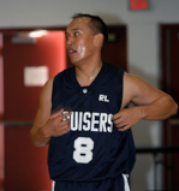 Jeff Lee in Cruiser blue: WEIRDOM.


Thinnest Team: Playing in a weekend long tournament with just 5 players is something we would never ever recommend, even if your 5 are named Larry, Magic, Michael, LeBron, and Vlade. What if LeBron goes down with an ankle sprain? What if Magic gets a stomach ache from the beef burrito he had Saturday night? What if Larry had to leave early because he just doesn't feel like playing? Even though it's Michael Jordan and Vlade Divac, they can't play with just 2! The Dirty South have been coming to the GCG for the past two years now with a thin roster and it happens time and again – someone gets injured or someone has to leave. Thus, they're left to consider playing with just 4 – it's bad enough with just 5 where they never get a break – or they have to pick up someone off the sidelines. This year, it was John Abraham - an employee of the rec center the tournament was held in and the aforementioned Chin, who actually plays for the USAB Warriors.

Best 3-point Shooter: Okay, you thought we were going to say Urbiztondo. Well, we would, but we didn't see JU shooting in no 3-point contest on Sunday! Several did (including some refs) and the king wound up being the New York Fury's Yuta Kurihara, a 5'7" Japanese guard who plays in the ABL for a team in Delaware. It wasn't even close, Kurihara killed the field, nearly doubling up the next closest guy in the final round. For the tourney, the Fury made a nice run till the semis. Bet they wish YuKu could've used some of those 3's in their games!

Most Unexpected Player Picked Up on a Team: Jeff Lee is used to playing against the Cruisers, not playing with them. The Washington CYC's guard was a hired gun for the weekend and it was strange seeing him in Cruiser threads – a little like seeing Bird in a Laker uniform. RL ran up against a buzzsaw named Urbiztondo in the semifinals, but Lee never really looked totally comfortable in his new environment. Can't blame him for being picked up last minute, but if this has put the idea in his head to start playing with them regularly, the rest of the East Coast Chinese American circuit can just forget it, the Cruisers would rule the roost for the next decade.

Team Who Missed a Player On Another Team the Most: Lee may have jumped to the Cruisers for these Games, but CYC wasn't playing, so it's kind of like if a tree fell in the woods and no one was there, did it make a noise? What CYC doesn't know won't hurt 'em. For the USAB Warriors, they lost their center Brandon Chock to a team playing in the tournament – DLNY. All week, Coach Bill Chan lamented the fact that his team would have no big men. Then, to have to face Chock in a round robin game – it just wasn't fair. Then, to have Chock go off for 21 points, 12 boards, and 2 blocks against them, it was insult to injury. The next time BC plays with USAB, don't be surprised if no one talks to him.



The next time USAB plays with Brandon, they're going to run him over.