info(at)dreamleague(dot)org

---

facebook | twitter

---

New site!!!: DRMLG.ORG
DREAMLEAGUE HOME
Poor Man's Commish
SEASON HOME
SCHEDULE/SCORES
STANDINGS/TEAMS
PLAYER STATS

RULES & REGULATIONS
ABOUT US

ONLINE WAIVER

HELP/COMMENTS


---

---

---

New site!!!: DRMLG.ORG
DREAMLEAGUE HOME
Poor Man's Commish
SEASON HOME
SCHEDULE/SCORES
STANDINGS/TEAMS
PLAYER STATS

RULES & REGULATIONS
ABOUT US

ONLINE WAIVER

HELP/COMMENTS

2008_Gotham City Games (New York)
Gotham City Games 2008 All-Tourney Selections
THE "VIC" MOST INSPIRATIONAL AWARD
Sid Anand, Philly FAY

---
MOST VALUABLE PLAYER (pictured above)
Josh Urbiztondo, Dream League Bay Area

---
MOST OUTSTANDING PLAYER
Tony Hu, New York RL Cruisers

---
TOP DEFENSIVE PLAYER
Balbir Singh, New York Warriors

---
FIRST TEAM ALL-TOURNEY
g Josh Urbiztondo, Dream League Bay Area
g Mike Reding, Dream League Bay Area
f Varun Bhartiya, New York D-Unit
f Tony Hu, New York RL Cruisers
c Mo Ghumman, Dream League New York

---
SECOND TEAM ALL-TOURNEY
g JoJo Pierce, Dream League Bay Area
g Nakul Rao, New York D-Unit
f Chris Youn, New York Fury
f Harris Chung, Dream League New York
c Balbir Singh, New York Warriors

---
OTHER ALL-TOURNEY SELECTIONS
g Usama Nausrudeen, SK War Dog
g Ray Huang, Glass Tiger
g Justin Kao, USAB Warriors
f Majid Kureshi, Philly FAY
f Joe Brush, Boston Knights
f Chris Henderson, Dirty South
c George Chan, New York RL Cruisers

---
ALL-DEFENSIVE TEAM
g Stan Yeung, New York RL Cruisers
g Taraz Lee, Dream League Bay Area
f Raj Patel, Philly FAY
f Sunny Margate, Dream League Bay Area
c Balbir Singh, New York Warriors



Hillburn, NY – The All-Tournament Selections:

All weekend long, it was, "Who is that #3 guy on San Fran?" Well, by the end, he'd made his mark. And if you still don't know his name, remember it, he may be punishing you for a long time to come: Josh Urbiztondo. J-Urb picked up the MVP piece while leading the field in scoring at 27.2 ppg. His signature game came against the Cruisers in the semis when he dropped 42 on them - 28 in the 2nd quarter. It had the gym abuzz with, "You see that guy pull a 'Melo?" - what with Carmelo Anthony going off for 33 in a single period a mere days before the Gotham Games. 42 on the Cruisers? Let's just say that on the East Coast, no one from any team has ever done that to them. Getting half that on the Cruisers is amazing. He shot an amazing 59.4% from the floor for the tournament and 50.9% from 3. He handed out 2.0 apg and had 1.3 spg, so he wasn't just a shooter - though the DLBA would be okay with it if he was. In fact, anyone watching him woulda been okay with it. J-Urb was like that video game player who's on fire and you want to see shoot the ball from anywhere he's situated on the court. The best part? He led his team to the chip while doing it. You can be the best shooter on the planet - see Peja Stojakovic or Stephen Curry - but if you can't win a ring, it don't mean a thing.

No one captured the spirit of the Most Inspirational Player Award than Sid Anand of Philly FAY. Truth be told, S.A. could capture this award year in and year out as he's shown nothing but enthusiasm for playing in the GCG since the day they were born. No one updates his Facebook status more about how looking forward to the Games than he, no one rallies his team more to get it together so they can play leading up to the tournament, no one hoots and hollers more on the sidelines, nearly willing his team to victories with his enthusiasm. No one is more respectful, courteous, or a sportsman than he. No one was more happy after a loss as well until you realize that Anand is from Philly - the city that had 99 combined seasons of their professional sports franchises not capturing a title until the Phillies finally just did it this fall. Then, and only then, do you understand why he's got a perma-grin. And then, you only begin to understand how he is an inspiration.

For the second consecutive year, Balbir Singh claims the Defensive Player of the Tournament title. Playing with the New York Warriors this time, B-Singh was still plenty of nuisance to all comers with 15.5 rpg and 3.5 bpg - both tops in the field by far. It's hard to game plan around him as you just kind of throw up a shot around him, hoping it doesn't get sent into the rafters or pinned to the glass. He had 14 blocked shots in 4 games. Let's put it this way, many don't get that in their career.

Our MOP goes to Tony Hu of the New York RL Cruisers. Hu quietly amassed 17.2 ppg on 50% FG and 7.8 rpg as he led his team to 2-seed entering the playoffs before they bowed out against DLBA. In a game against Balbir Singh, Hu more than held his own, working for 19 points mostly around the paint. He also had 21 and 12 in a quarterfinal win against the USAB Warriors. New York knows it already, and some of the Chinese-American nation knows, but on a pan-Asian national level, there's no doubt about it, Hu has what it takes. We actually think he's under the radar in that respect, if that's possible - maybe because of his Elton Brand-esque game. No flash, no trash talk, just results.

First Team All-Tournament

Aside from J-Urb and Hu, the first team players are: Urb's mate Mike Reding, Varun Bhartiya of New York D-Unit, and DLNY's Mo Ghumman. We reward players positionally and the backcourt of DLBA was hard to beat. Believe it or not, J-Urb didn't even start every game. Reding did, and one of the few holdovers from last year's DLBA GCG team took advantage of it by scoring 16.7 ppg, also shooting impressively from the field - 52.1% - and from the arc - 44.9%. His tourney high was 26 against the NY Fury and while some may have looked at him as second fiddle to the other 3-point shooting wizard on the team, he was no Oates to J-Urb's Hall…Talk about prime-time player, Bhartiya found his fountain of youth again at this year's GCG with an impressive display of 15.3 ppg, 6.3 rpg, and 2.0 spg. He had a monster 24 and 9 game in a quarterfinal heartbreaker against DLNY and all this coming on the heels of talking about how he'd started losing his love for the game. Blasphemous…Bhartiya's former mate, Ghumman, gave the post position a sleek look with his 14.8 ppg and 7.3 rpg. Ghumman is pretty much every coach's dream as he puts the ball in the bucket when you need it, grabs a board when you got to have it, and passes fancy when a mate's open. He's become somewhat of a bounty hunter in these national tournaments, but he's lookin' good in the DLNY stripes.

Second Team All-Tournament

The Bay had another guard who was hardly shabby himself - and in fact, was the unsung hero in DLBA's chip game win against DLNY. JoJo Pierce pulled his team out of a rut against DLNY with 17 points after they trailed by double digits in the 1st half - and J-Urb finished the job, but all-tourney long, JoJo jammed with 12.2 ppg and 3.8 rpg…Nakul Rao led the tough luck D-Unit (did you see their pool?) with 15.8 ppg. His defining game came in D-Unit's win over DLBA (their lone loss in the tourney) when he went off for 29 points - making 7 of 9 3's. Bay Coach Rich Twu was heard muttering afterwards, "He out Urb'd J-Urb…" The Fury made a run to the semis on the strength of a deep deep team, but one was deeper than the rest. Chris Youn, who may play 15-20 games per week, hauled through 5 games for 12.4 ppg and 5.0 rpg. The numbers may seem workmanlike, and they are, but on any other team, with less minutes to share, those figures easily double. We recognize the effort CY, keep it up. And thank you for always being your team's voice of reason when things get out of line…It's hard to believe he's only 22 (we have yet to check for possible HGH abuse), but DLNY's Harris Chung is a man amongst boys. Well, he's a boy amongst men really, but you get the gist. At times, DLNY's best player, HC averaged 12.8 ppg and 5.2 rpg, hitting clutch 3's when his team most needed it. He'll be a player on the scene for awhile to come…In addition to taking the tourney's top defensive player title, Balbir Singh also scored 16.3 ppg and handed out 3.8 apg - tops on his team. He was often a one-man show unlike last year when he had Paul Phangureh helping him. Too bad PP had finals this year.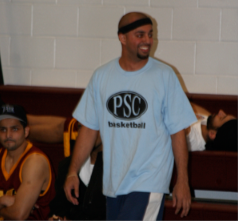 Despite FAY's fortunes, that Sid Smile never left.


Other All-Tourney Selections

It's hard to justify giving any kind of mention to a player who didn't bother to show up to Day 2 of a two-day tournament (playing the consolation bracket just wasn't worth it we guess), but it's hard to ignore Usama Nausrudeen's 23.7 ppg, and 2.0 spg. His point's average was good enough for 2nd in the tourney even if our 2nd (day) wasn't good enough for him…Poor Glass Tiger. They lost two of their pool play games at the buzzer and finished Saturday 0-3, but easily could have been 2-1. Ray Huang could hardly be blamed for any of this as he led the tough luck team with 16.3 ppg and 5.5 rpg. His would-be game winning 3-point play against the Dirty South was not to be…We told you not to sleep on 11-year old looking Justin Kao. Sure enough, most of you did and he burned you for it averaging 12.8 ppg, 4.3 rpg, 2.5 apg, and 2.8 spg - leading USAB in all of those categories but rebounding…Majid Kureshi led Philly FAY this year with a man sized game, averaging 16.3 ppg and 7.7 rpg - showcasing an inside-out game. He hit 7 of 15 3's, got to the line a bunch of times, and had a warrior spirit in him that Sid Anand just loved. And when Sid loves it, you know it's good…Joe Brush once again played well in defeat for the Boston Knights. He led his green gang with 13.8 ppg and 9.0 rpg. His under-handed flip at the buzzer to knock off Glass Tiger was one to remember. The loss in the consolation finals to SKWD was not…Another GCG, another thin line-up led by Chris Henderson. Henderson led Dirty South with 18.7 ppg and 10.3 rpg. What he wouldn't give for a full team one of these years however. We bet he'd even give up 3.7 ppg and 0.3 rpg…Put George Chan in any basketball setting and he'll get you what he got the Cruisers in GCG '08: 12.8 ppg and 8.4 rpg. It's pretty much automatic, as is his name on the honors board. George is so solid, George Chan for president ain't a bad idea.

All-Defensive Team

Joining B-Singh on the defensive demons list this year are: Stan Yeung from the RL Cruisers, Taraz Lee of DLBA, Raj Patel of Philly FAY, and Sunny Margate, also of DLBA.

It's funny, for those in the know, Stan Yeung and Taraz Lee are like brothers from another mother. Both bred in the San Francisco Bay Area (Yeung was an Associate prior to moving to NYC), both have games like Jason Kidd - or rather, J-Asian Kidd, as both are deluxe point men on their teams who needn't take a single shot to affect the outcome of a game. Both excel on D and we recognize both of them for that with their All-D selections here as our backcourt. Yeung and Lee both have quick hands, a wide base, and a tenaciousness for loose balls that then transition to fast break opportunities for their teammates. Occasionally, they'll shoot a jump shot, but usually they set the O and carry the D's. Dream players to have - as if they were brothers…Patel played about a foot taller than he actually is, usually assigned the opposition's top post-player. He was GCG's version of Ben Wallace. Hard hat, lunch pail, sleeves rolled, biceps bulging, ready to work…Margate, the veteran that he is, may be the smartest defender around. He won't outleap everyone, nor will he shut down his man, but he knows enough and understands the game so well that he usually always comes up with a big defensive stand just when his team needs it most. He gets the big rebound, blocks the big shot, throws his body around at just the right time. The little things he did cannot be overlooked in DLBA's come-from-behind win in the championship against DLNY.