info(at)dreamleague(dot)org

---

facebook | twitter

---

New site!!!: DRMLG.ORG
DREAMLEAGUE HOME
Poor Man's Commish
SEASON HOME
SCHEDULE/SCORES
STANDINGS/TEAMS
PLAYER STATS

RULES & REGULATIONS
ABOUT US

REGISTRATION

DONATE

ONLINE WAIVER

HELP/COMMENTS


---

2010 Fall Saturdays in SF (9/18-11/6)

---

2010 Fall Bay Area Sundays (9/19-12/19)

---

2010 Summer Bay Area season (6/6 thru 9/12)

---

2010 Summer NYC AAA

---


SUMMER VEGAS TOURNEYS
ELITE/6FT+1/Masters/INT
Sep 11-12, 2010 - SIGNUP!!

---

HAITI RELIEF
Donate $10 text HAITI to 90999

---

Support Jeremy Lin! Harvard at Columbia (NYC) 1/29/2010

---


NYC TOURNEY - 2008 results

---


2009 GOLDRUSH INFO

---

2011 LA Showcase SIGNUP!
2010 LA Showcase results



---

---

New site!!!: DRMLG.ORG
DREAMLEAGUE HOME
Poor Man's Commish
SEASON HOME
SCHEDULE/SCORES
STANDINGS/TEAMS
PLAYER STATS

RULES & REGULATIONS
ABOUT US

REGISTRATION

DONATE

ONLINE WAIVER

HELP/COMMENTS

2008_Gotham City Games (New York)
Notes, Format, PAYMENT, etc.
Updated 12.12.08:

**NEW!! We will be holding a 3-point Shootout on Sunday around 11:30am-12:00pm! Anyone wishing to sign up for the contest must email us at brian@dreamleague.org to enter. First 10 to respond will be in the contest, so get on it! And spread the word. Please enter only if you are a 3-point shooter. We want this to be exciting! 10 contestants will each have 1 minute to shoot 5 shots from 5 spots (just like the NBA format) with each shot worth 1-point and the final shot at each station worth 2. You must have your own rebounders (up to 3) catch and feed you balls. Top 5 scores will move onto the second and final round whereby they will go through the same thing again. Top score is the stud (and wins a prize).

* Please note that the format of the tournament will be 12 teams divided into 3 pools with 3 pool play games - 2 intrapool games and 1 crosspool game on Saturday. Based upon records and tie-breakers, the top 8 teams will advance to the single-elim playoff bracket on Sunday. Teams 9-12 move over to the Consolation Bracket, so there will be games for ALL on Sunday!

* PLEASE submit payment before the tournament. If you do not pay upfront, you do not play!! (See below for payment methods).

* Schedule for Saturday is set! Please note that there are some instances in which teams will have to play back to back. In those instances, we will allot up to 30 minutes for the team who has just played to rest before beginning their next game. You needn't use up the full 30 minutes if you don't want to.

* There will be 3 courts all side by side. They will be Court X, Court Y, and Court Z. Please check with tournament coordinators for which court is which and please check the schedule on this site for which court and at what time your game will be.

* PLEASE, PLEASE make sure you are familiar with our modified-pro rules!!! We can't tell you how many times small rules that players aren't used to burn a team.

* If you are interested in purchasing t-shirts you may see affiliated to this site, please see a tournament coordinator. In addition, if your team is interested in getting uniforms custom made, please see us as well or visit HOOPWEAR for more information.

Updated 12.2.08

Hey you Turkolus! Gobble gobble, the Gotham Games are right around the corner again! If these years aren't starting to feel like weeks – I mean, didn't GCG07 seem like it was at most 6 weeks ago? – then no one reading this post likes basketball.

Okay, blasphemy aside, we welcome you back (or for the first time) to the Robert Lee Memorial Gotham City Games – our 3rd annual one, and one that will be hosted at yet another new site. (If we ever find our own permanent home, we'll be happier than a turkey on the day after Thanksgiving – since that means he lived).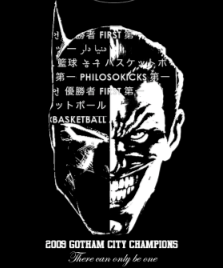 There can only be one. Will it be you?


This year's venue will be the at the Lawrence Health and Rec Center in Hillburn, NY – about 45 minutes outside of NYC in Rockland County upstate New York. Just so you already know, the venue has 3 side-courts side by side divided by those big curtain thingys and has nice new rubber floors that you won't notice once you get your sweat going and start playing. (We couldn't think of a more eloquent to say it). Each court has a scoreboard and shotclock, so brush up on our NBA-modified rules if you don't remember or don't know! It can make a huge difference during your games. (Can't tell you how many times we've seen a team inbounds a ball into the backcourt from the sideline and be called for a violation since they don't recall that you can't do that in the NBA until 2:00 are left in the 4th quarter). Don't let those silly rules soil your experience. Make sure all your guys know them!

We always get excited about this time of year and it has nothing to do with the holidays. We can't wait to see who confirms their slot and we can't wait to have tantalizing potential match-ups of pan-Asian teams dancing in our heads.

Will DLBA face the Cruisers? Could the D-Unit dance with the Boston Knights? How about an intra-Toronto matchup featuring the Kagers (Chinese-Korean) against the Khalsa (IndoPak)? Wonder if they've ever faced each other in the 416?

For the third year in a row, we can't wait to see teams from the IndoPak, Chinese, Filipino, and Korean circuits blend and beat up on each other (not literally, please). That's been our mission all along – to provide a national stage for teams across the pan-Asian-American spectrum to come together to compete.

Each year, we hear all about the happenings at the various national tournaments each circuit has. At the GCG, at end of each year, come see what happens when it all gets together. The NJ/Cali Soormay Franchise showed everyone what was up last time. Can they hold it down again? Will a new champion emerge? Does this down economy limit some teams ability to travel? All very valid questions and there's only one way to find out.

Read the fine print and register for a spot now! Slots are limited!

DATES: December 13 & 14, 2008 (plan for teams who survive late into playoffs on Sunday to not finish the championship until roughly 7 or 8pm)

PLACE: Lawrence Health and Recreation Center at Hillburn, New York.

COST: $425 USD per team. Due prior to the tournament. Slot cannot be guaranteed until we receive payment and should another team come along and pay first, you may be bumped out of the tournament if paid slots are filled. No more than 16 teams will be in the field. You can either pay via credit card through Google Checkout on the button below (additional 2% credit card processing fee):


Or send a check made payable to:

Dream League of New York

to:

343 E. 30th St., #11C
New York, NY 10016

Either way, please pay in full before the tournament - the sooner the better!

FORMAT: As per our traditional format, each team will be placed in a pool, have a minimum number of 3 pool play games, and then move onto the playoffs in a seeded order that will be determined by records and point differential tie-breakers.

RULES: We cannot understate the importance of becoming familiar with our NBA-modified rules. So, please, please, please read up on them before you arrive!

Please contact brian@dreamleague.org for more information (like place of stay for those from out of town, places to get food, or a place to go out to on Saturday night).