info(at)dreamleague(dot)org

---

facebook | twitter

---

New site!!!: DRMLG.ORG
DREAMLEAGUE HOME
Poor Man's Commish
SEASON HOME
SCHEDULE/SCORES

RULES & REGULATIONS
ABOUT US

ONLINE WAIVER

HELP/COMMENTS


---

---

---

New site!!!: DRMLG.ORG
DREAMLEAGUE HOME
Poor Man's Commish
SEASON HOME
SCHEDULE/SCORES

RULES & REGULATIONS
ABOUT US

ONLINE WAIVER

HELP/COMMENTS

Ping Pong Playa Opens 9.5.08 (NYC/SF/SJ/Berkeley)
PING PONG PLAYA Opens Nationwide on 9.5.08!!
JOIN DREAM LEAGUE FOR A SPECIAL SCREENING ON 9.6.08 IN SF and NY


Jimmy Tsai as Christopher "C-Dub" Wang in PING PONG PLAYA directed by Jessica Yu. Photo credit: Christopher Lim/Ping Pong Playa LLC. An IFC Films release.



From Academy Award winning director Jessica Yu comes the outrageous basketball (or is it?) comedy PING PONG PLAYA that you've all been waiting for! Maybe you didn't know you were waiting for it, but trust us, for all you genetically challenged Asian-Americans who couldn't reach the NBA, after you see it, you'll wish you knew you were waitin' for it. And so you'll tell a friend who will tell two friends who will tell three friends to check it out. (The Dream League fully supports Asian American film, especially as it relates to hoops.) Opening on 9.5.08 in San Francisco, San Jose, Berkeley, New York, various parts of SoCal (and then Seattle and Houston 9.12.08), the DL is honored to help support PPP (Ping Pong Playa, duh) in it's opening weekend across the nation.

Christopher "C-dub" Wang is a suburban guy who sports an urban swagger (to say the least), waxes political on all things Asian American, and clings to pipe dreams of a career as a pro basketball player. Blaming genetics for his failure to make the NBA, C-dub lives at home, works a dead-end job, and squirms in the shadow of his older brother, Michael (played by Roger Fan of Better Luck Tomorrow fame), a doctor and ping pong champion.

With a family-run store devoted to all things ping pong and a mom who teaches it at the local Chinese Community Center, the Wangs' entire world revolves around the sport. But despite the family legacy, C-dub opts to spend his free time playing video games and daydreaming about get-rich quick schemes with his best friend JP Money.

C-dub is kicked back into reality when his mom and Michael are hurt in a car accident, leaving his father to watch over the store and forcing C-dub to take over his mom's ping pong class of misfits. C-dub starts to appreciate the benefits of ping pong when he starts using the class to make some extra money on the side and befriending one of the kids who happens to have a beautiful older sister.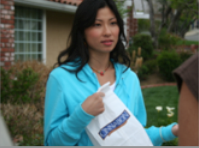 Smith Cho as Jennifer in PING PONG PLAYA directed by Jessica Yu. Photo credit: Christopher Lim/Ping Pong Playa LLC. An IFC Films release.


But when the Wang family livelihood is threatened by a rival ping pong player's attempts to lure the kids away, C-dub begins to take things more seriously. With the National Golden Cock Tournament coming up and an injured Michael unable to defend his title, C-dub must become the player he pretends to be and defend his family's ping pong dynasty.

Over opening weekend in the Bay and in NYC, the Dream League will be organizing outings for specific screenings so we can go as a group. There's the Dream Team, the Redeem Team, and now the Ping Team. As we will be buying blocks of tickets ahead of time, please hit your respective contacts on both coasts if you wish to join us at the screening we are attending. Please bring family and friends! Certainly feel free to attend any of the screenings you can get to over the opening weekend, but if you attend our specially organized group outings, you'll be eligible to win select gear from actor Jimmy Tsai's (who plays C-Dub) clothing line Venom Sports as well as a limited edition Yao t-shirt from Epic Props in a raffle we'll have at that screening. (Winners will be pre-selected from the names who order tickets through our group block, so get your pre-order in asap!)



San Francisco:

Date: Saturday 9.6.08
Time: TBD
Place: Metreon AMC (101 4th St.)

e-mail Al Chen at albert@dreamleague.org for Dream League group outing in SF. (San Jose and Berkeley outings may be organized as well so check back here)

- San Jose Camera 12 at 288 S. 2nd St.
- Berkeley Shattuck at 2230 Shattuck Ave.

New York:

Date: Saturday 9.6.08
Time: 1:15
Place: AMC LOEWS VILLAGE 7
66 THIRD AVENUE (AT 11TH STREET)
NEW YORK, NY 10003

e-mail Brian Yang at brian@dreamleague.org for Dream League group outing in NYC. (Also playing at the E-Walk on 42nd St in Times Square.)

Please email your request for # of tickets no later than Tuesday September 2nd at noon EST/PST for that following Saturday's showing! Ticket prices will be regular prices you find at theater and must be paid in full either prior to screening or at the screening day of!



"This film makes me laugh out so loud that I thought I was screaming...Jimmy Tsai's acting debut proves that his great talent not only lives behind the camera, but also shines in front of it." -- YNOT At The Movies

"Ping Pong Playa should receive the same attention as Napolean Dynamite -- it's less dysfunctional, but just as eccentric and fun." -- justpressplay.net

"PING PONG PLAYA will continue to delight on the fest circuit...Tsai pulls out all the stops with his C-dub role, brimming with witty send-ups..." -- Justin Lowe, Hollywood Reporter