info(at)dreamleague(dot)org

---

facebook | twitter

---

New site!!!: DRMLG.ORG
DREAMLEAGUE HOME
Poor Man's Commish
SEASON HOME
SCHEDULE/SCORES
STANDINGS/TEAMS
PLAYER STATS

RULES & REGULATIONS
ABOUT US

ONLINE WAIVER

HELP/COMMENTS


---

---

---

New site!!!: DRMLG.ORG
DREAMLEAGUE HOME
Poor Man's Commish
SEASON HOME
SCHEDULE/SCORES
STANDINGS/TEAMS
PLAYER STATS

RULES & REGULATIONS
ABOUT US

ONLINE WAIVER

HELP/COMMENTS

2007 Winter/Spring NL (NYC)
One On One With Jeremy Lin
By Brian Yang
This Saturday, right here in New York City, a historical event is set to take place. Where will you be? All kinds of history is made in the Big Apple, but there has never been history of this kind. On Saturday at 7pm, at the Levien Gym on West 119th and Broadway, the Harvard Crimson will tip off against the Columbia Lions and the game will be the first time NYC (and possibly the 2nd time ever in the United States) sees two players of Asian descent square off against one another in a Division 1 college game. KJ Matsui of Columbia and Jeremy Lin of Harvard will meet again for the second time in both team's season finale. The first time they met? When these two faced each other earlier this season up in Cambridge (a Columbia 90-70 win). It was historic then too. But this is NYC folks, they're on the main stage now.

If you caught the episode of AZN's NBA Time Out with Angela Tsai (which just returned last week!) last year, you learned all about KJ and his story of moving to the DC area from Japan to play basketball at Montrose Christian, a basketball powerhouse to hone his skills, before taking them onto Columbia, where he is now a sophomore.

Unless you just came from the Bay Area recently, you may not know much about Jeremy Lin. Last year, as a senior at Palo Alto High School, which sits just across the street from Stanford University on El Camino, Lin led his Vikings to the Division II State Championship over Mater Dei, a perennial state finalist who boasts such alumni as LeRon Ellis, Cedric Bozeman, DJ Strawberry, and Matt Leinart.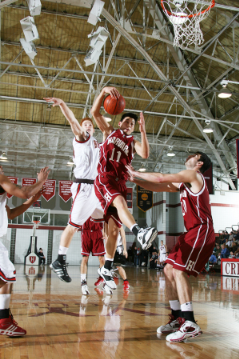 A rebounding point - the best kind. (All photos courtesy of Harvard University Athletic Department)


Trust that when word got out that a Chinese-American had led his team to the state title over a team like Mater Dei, it did not go unnoticed. In those parts, noise was made.

In his senior year, the 6'2", 180 pound point guard averaged 15.1 ppg, 6.2 rpg, 7.1 apg, and 4.8 spg and earned the San Francisco Chronicle and San Jose Mercury News Boys' Bay Area Player of the Year honors before moving onto the next level.

A year later, the noise is being made here on the East Coast.

Lin, who is still learning the ropes and had season highs of 12 points and 4 rebounds against both Dartmouth and Penn, is now near the end of his frosh season. Amidst his busy schedule, I had a chance to speak over the phone with Jeremy this week. It became evident quickly that Lin is a young man who is articulate, intelligent, and possesses a good head on his shoulders. He's got the brains and the basketball prowess:

BY: Jeremy, this is your first season at Harvard, how do you feel about it and what's been the adjustment like from high school to college?

JL: Well, I think the college game is obviously a lot more physical and faster. It was something I had to get used to, not being like the quickest or the strongest or tallest guard that I usually faced up against. I've just been trying to get a lot smarter in terms of trying to even out the playing field in terms of quickness and stuff. I know what I have to do this off-season to try and get better so I can do better next year so it was a good learning experience. You obviously have to work a lot harder than high school and that's a big adjustment as well.

BY: How about the college atmosphere? Harvard in particular. Coming from sunny California, what's it been like for you?

JL: Well obviously it's a lot colder out here. It's a lot more business like in college. A lot more serious. I guess balancing athletics and school has been a lot harder than I thought. Obviously at Harvard, these kids are all really bright. And being away from home. It's a lot tougher. Thing are…you're not always comfortable.

BY: Speaking of academics, choose a major yet?

JL: Probably economics or something along the lines of public policy.

BY: Back to basketball. I understand you played at Paly and basketball was always going to be a part of your future. So, college wise, how did you choose Harvard? Were there other schools in the running?

JL: I was mainly choosing between Harvard, Stanford, and Cal. I wasn't getting any scholarships from Stanford or Cal but in terms of Cal I just didn't really like it there when I visited it there…

BY: I'm actually a Berkeley grad so watch out.

JL: My bad….

BY: Kidding. Just kidding.

JL: And Stanford, the coach wasn't really honest with me in terms of recruiting and stuff and I definitely didn't want to go play for him. Harvard seemed like a good fit in terms of athletics and academics and I enjoyed it when I came out to visit and I just thought it'd be a new experience coming out to the East Coast and just wanted to see what it was like, so I chose Harvard.

BY: It was really a no-brainer after you looked around.

JL: Yeah.

BY: The Bay, and Cali in general has a huge Asian American basketball network. There's NAU (Nisei Athletic Union), various tournaments from Sac down to LA every month. The Ninjas, the Zebras, San Jose teams. Were these groups you were familiar with or played with when you were there?

JL: Yea. I have a lot of friends who actually played Zebras and Ninjas and I actually played in some Asian American tournaments when I was younger with my Chinese School. We had a team and we played in some of the Asian American tournaments for fun. I didn't join the Zebras or Ninjas or anything like that.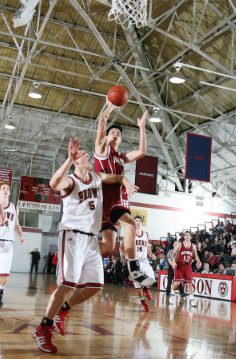 Lin beats this Brownie.


BY: A lot of your friends still play though?

JL: Yea. Yea.

BY: With that in mind, basketball in the US is a huge game now. It's growing globally. To a large degree it's still looked at in the US as not something Asian Americans play. It's looked at as a black and white sport. But the face of the game is changing, especially on the higher levels like at college. We're not quite in the pros yet (though Rex Walters would dispute that, who played for the Zebras incidentally.) Yao Ming is obviously a Chinese citizen who's come over, but one day our hope is to see an Asian American make it to the highest level. We're seeing a lot of guys, including you, who are on the collegiate level. Understand once the ball is tipped, it's all about the game, but for yourself, have you ever felt your ethnicity was an issue in regards to the game? Like, how people perceived you as a player?

JL: Me being an Asian American never changed the way I saw basketball, but I know a lot of different people saw me differently and ever since I was younger it's like everywhere I go, I have to prove myself cause no one's going to look at me and be intimidated or think highly of me in terms of basketball. So, there's always been a chip on my shoulder in terms of being an Asian American and trying to gain respect for myself and trying to go far in basketball so it's definitely one of my motivations, one of the things I keep inside my head and remind myself everyday of – trying to break stereotypes and prove to other people that I belong and Asian Americans belong in the sport as well.

BY: Well said. Thank you. Continuing on that theme, last season, you led Paly to the State title over mighty Mater Dei, which, first of all, congratulations. Ever since I was in high school, Mater Dei has been a traditional powerhouse, but to learn that a team who toppled them in the state championship was led by someone who is a Chinese American says a lot and it definitely raises eyebrows. Have you given thought as to what this (you) mean to the community? To guys who play on the Ninjas or Zebras. There's a whole legion of players all around the US who anytime they see that there's a Jeremy Lin playing at Harvard - how awesome. Do you think of yourself as a role model?

JL: I don't think I've given that that much thought. I'm not really aware of if other people know who I am or not. I guess I know, in terms of my community and the people I've been around, especially in my Chinese church, a lot of the little kids look up to me cause they've heard or they saw me play on TV or whatever, so I guess I try to be a good role model to them and everything, but I just think from my perspective, I'm just like anyone else trying to find my way in college now and I have to go through a lot of struggles and I'm trying to stay focused on what I can do for myself in terms of getting better as a basketball player so I'm not really aware of what's said about me in the Asian American community. I just tried to work hard all the time and try to reach my potential.

BY: That's a commendable way of going about it. Just focusing on yourself and setting that example. Whether you know it or not, it speaks volumes, so keep doing what you're doing.

JL: Alright.

BY: This Saturday, you're going to be in New York playing Columbia and maybe it's crossed your mind the fact that Columbia carries a guy by the name of KJ Matsui on their team. This is probably – and I can't know for certain as I'll admit I wasn't able to fact check this to 100% certainty – on the D1 level, a game involving two players of Asian descent going against one another – this obviously being the second time as you met each other early this season up in Cambridge – was this something you thought about? What does it mean to you, if anything?

JL: I guess it's kinda cool to be a part of it and to know there's something else who's playing D1 but obviously when I play against him, that's not going to cross my mind. I'm just gonna try to help my team win – whatever we can do to win. I'm not going to be worried about playing against another Asian – or KJ Matsui. I'm not really that focused on that. If I think about that, that would mess me up in terms of trying to play basketball.

BY: You'll be thinking about the wrong things.

JL: Yea.

BY: You guys will be down here this weekend. It looks like the Lions got the better of you guys the last time. What do you guys have to do this Saturday to get a W.

JL: We're just going to come out and play with intensity. Last time in the first game, after we lost our big man we didn't know how things were gonna go. Now we have a much better feel of what our team is and we're just going to come out and we're going to play hard. It's going to be our last game of the season. Everyone should be giving their best effort. If we stick to what we do then we stick to our game plan. I think we'll be fine. We'll get a win.

BY: Have you been down to New York City before?

JL: Yea, my grandma lives there.

BY: So you've been here in the past, before college?

JL: Yea.

BY: What do you miss most about California?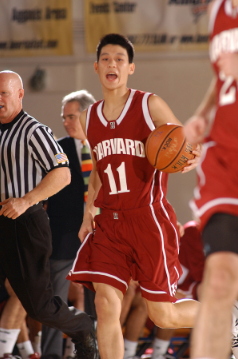 Lin leads the Crimson.


JL: The thing I miss the most is my family. I don't get to see them at my games and I don't get to see them everyday and so obviously that's been the biggest adjustment for me. I also miss my old friends and my old coach. I enjoyed playing for my high school coach a lot. And he basically taught me everything about basketball ever since I was in 5th grade. I miss the weather I guess.

BY: Are you going back in the summer?

JL: I'm going back for spring break and summer. I'm going to try to be in California as much as possible cause I really enjoy being there.

BY: Last question, what are your plans – and if this is too far down the line, I totally understand, you're just a freshman after all – after college what do you see yourself doing? A career outside of basketball? Or something with basketball? Will you pursue it further?

JL: I'm going to try to get as good as I possibly can and hopefully if I can do something with basketball in the future I'll do that, but what I really want to do is to work in underprivileged communities and try to help out poor neighborhoods. I know next to Palo Alto is East Palo Alto and that's the real poor neighborhood so in the summer I spend time there playing basketball with the kids and teaching them academics. That's what I want to do in the future – bringing in public policy to bring in more money circulation and different types of things like better policies for underprivileged communities and I'm sure I'll be able to find a way to coach a couple rec leagues.

BY: I'm sure basketball will be a part of your life one way or the other. Sounds like a real nice plan if you can use the game as a tool to build a place like EPA up.

As promised that was the last question. Thanks for your time, Jeremy. Good luck this Saturday. Good luck with the rest of your career there and beyond. Hopefully we'll get another chance to speak someday.

JL: Thanks a lot.

Single game tickets to Harvard-Columbia this Saturday are still available online at: Go Columbia Lions.