info(at)dreamleague(dot)org

---

facebook | twitter

---

New site!!!: DRMLG.ORG
DREAMLEAGUE HOME
Poor Man's Commish
SEASON HOME
SCHEDULE/SCORES
STANDINGS/TEAMS
PLAYER STATS

RULES & REGULATIONS
ABOUT US

REGISTRATION

DONATE

ONLINE WAIVER

HELP/COMMENTS


---

2010 Fall Saturdays in SF (9/18-11/6)

---

2010 Fall Bay Area Sundays (9/19-12/19)

---

2010 Summer Bay Area season (6/6 thru 9/12)

---

2010 Summer NYC AAA

---


SUMMER VEGAS TOURNEYS
ELITE/6FT+1/Masters/INT
Sep 11-12, 2010 - SIGNUP!!

---

HAITI RELIEF
Donate $10 text HAITI to 90999

---

Support Jeremy Lin! Harvard at Columbia (NYC) 1/29/2010

---


NYC TOURNEY - 2008 results

---


2009 GOLDRUSH INFO

---

2011 LA Showcase SIGNUP!
2010 LA Showcase results



---

---

New site!!!: DRMLG.ORG
DREAMLEAGUE HOME
Poor Man's Commish
SEASON HOME
SCHEDULE/SCORES
STANDINGS/TEAMS
PLAYER STATS

RULES & REGULATIONS
ABOUT US

REGISTRATION

DONATE

ONLINE WAIVER

HELP/COMMENTS

2006_Summer/Fall AAA (NYC)
Seoul Says...Vegas Baby, Vegas
With Las Vegas heavily on the mind again (it always is when Labor Day nears), it struck me why the AAA is just like the city of sin – there is a lot of nice looking stuff, much without substance, and like when you sit down at a blackjack table, you never know what you're going to get. (There's the water show called Le Reve at the Wynn, but there is not a comparison to make there at all. Those performers are way more athletic than anyone we got. I just wanted to mention this cause I saw this show.)

In the casinos, you can count the cards to betterfy your odds (yes, I just made that word up), but when you get stuck with something you didn't "count" on – like HKT whoopin' up on LYSE Shot on Sunday – you go right back to square one.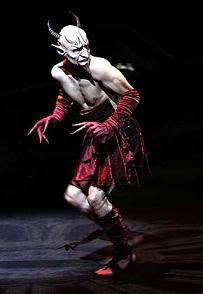 Le Reve: He'd make a mean forward.


First, a little about why Vegas is on the brain.

For those who don't already know (and if you do, I suggest you stop here and go read the NL homepage if this is boring), the weekend after Labor Day signals the world's biggest annual Asian American basketball tournament in Las Vegas.

The Las Vegas Invitational – or LVI – was born in 1993 and while I don't know how many teams it started with that year, today, it boasts over 200+ teams who come from as far away as Hawaii and Massachusetts.

Oh, and don't forget New York! Some of DLNY's very own players have gone out in the past and are going out this year: Andre Liu and Jiang Yu of the NL's Tri-State InvAsian, Kevin Park (who is on sabbatical this season from the NL's Da Bien), and a former friend in Dean Shin who used to run with YTMT but now lives in SF, are bringing a team out next month . There are probably many more I'm not even mentioning – Brent Morita of Bonzai, are you one?

Imagine 200+ teams (including men, women, boys, and girls) running around Vegas, looking for their gyms to play in, fighting for position on the court, and then rushing over to the nearest buffet and fighting for position in line. They don't call it the wild, wild west for nothing.

Throw in the fact that Dream League West consistently goes and finishes near the top (2nd place last year) in the top AA Gold Division, and you can see why it really is on our minds a lot.

This year, it's not only on our minds, it is our mind.

LVI: Let it ride!


For the last few years, the DL has traditionally been hosting tournaments in Vegas as well and we have seen it bring together a more pan-Asian-American flavor (LVI is heavy in Chinese and Japanese Americans). Not only did the DL tourneys provide for more opportunity for teams who traditionally go to LVI to earn more money, eat more food, and go to Rain one more time, but it allowed for teams who were on the waiting list (yes, LVI has a waiting list) for LVI to get to compete in Vegas.

This year, the DL – with LVI's chief operation officer's blessing – is coming live and direct from Vegas once again, only over the course of a two-weekend tournament that will take place on Labor Day weekend as well as the following weekend – yup, the same as LVI's.

The Labor Day portion will include the 6-foot, Masters (over 35), and open divisions while the following weekend will be the annual Asian American National Championships (AANC – and yes, that is a play on NCAA – but considering many individuals in the AANC played in the NCAA on some level, maybe it ain't no joke).

Why the same weekend as LVI for the AANC?

The AANC is designed for the elite teams from around the US and because the LVI has been so longstanding and draws the top Chinese/Japanese teams each year, those teams have refrained from entering the DL fray for fear of spending more money to get to Vegas, eating more food while there, and losing more money at the craps table.

Well, by bringing it to them on the same weekend (and coordinating schedules so that teams/players can make both), the answer may have been found.

A lotta ball you say? Yeah, but take it straight from Dream League West's team who will be playing in LVI themselves first before going over to the DL tourney: it can be done.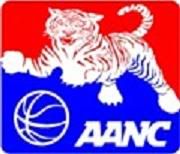 AANC - Come out to play East Coasters...


It's been said before on these pages that basketball is what we do. If this don't fortify that statement, then Clinton didn't inhale.

So now that you understand a little more about Vegas and us (and don't forget it as soon as September passes cause the 2007 NBA All-Star Weekend is in LV and we plan on being there like we were in Houston this year), let's see how the AAA is just like the town that Wayne Newton calls home.

We had a smorgasbord of games this past week. From last Wednesday to our special Saturday game to Sunday, we got a little more familiar with who is whom here and how the pecking order of our infant division might play out.

(Note: Picked Last in PE has yet to play. Their name may suggest they stink and the fact that they ain't played yet may suggest that no one wants them to play cause they stink, but take it from me, they do not stink. Their center is an NL All-Star point guard and their shooting guard played at our AANC last summer.)

It started on Wednesday with an inter-conference match-up featuring Saigon's HKT and Tokyo's Sea Slugs. It nearly ended there.

This game was enough for me for a week's worth of action – like one hour in Vegas also is. It had everything – a captain who was not supposed to show up due to his wedding in a few days, decent shooting from the floor, wretched free-throws, too many turnovers, a huge comeback, lightning in a bottle, a last second shot, and a Knute Rockne speech afterwards.

Ricky Auyeung, the Slugs captain who got married over the weekend (no, he didn't get married in Vegas) gained the permission of his fiancé to get out and play. If he sprained his ankle, she'd have his head, but otherwise, "go have fun, honey!" Auyeung came out fired up and on the strength of 44% shooting from his team, helped lead the Slugs to a double digit lead in the 4th quarter.

Sing Tau helps a brotha out.


Despite 38% free throw shooting for the Slugs, things seemed to be going well and Auyeung would be sent away to his wedding with a nice W. Well, before the nuptials became official, and before the W did as well, HKT, led by a brilliant little point who draws comparisons to Allen Iverson, came roaring back.

Sing Tau, tats, cross-overs, and flingy no-look passes and all, sprearheaded a remarkable comeback in the 4th with defense, dazzling dimes, and ooh aah enticing drives to bring HKT within a point with under 10 seconds left. (If his game sounds a little like a Vegas showgirl, it is.)

When HKT gained possession again and the world focused on Tau, small forward Steven Lee was left wide open under the basket for an easy game winner with barely any time left in the game.

The Slugs had a shot if they called their last time-out and advanced to half-court, but in the midst of the pandemonium, they lost their heads and inbounded the ball and let the clock expire. (Losing your head in Vegas is why they say What happens in Vegas, stays in Vegas.) As the captain, Auyeung may have made a mental error in not burning the time, but after the game he was neither mental nor erroneous as he gave his Slugs an impassioned 5-minute speech about the need to stay together for the long haul.

It brought a tear to my eye. (That also happens when dealer gets 21.)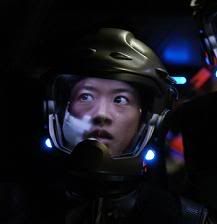 Her Maxim look was better.


The special Saturday game also moistened my tear ducts as we broke "old" ground with a Dream League Saturday. Our first season ever took place on Saturdays, but since then, we've moved away from the 6th day of the week for no reason other than cause Sunday felt like ball day more.

A revamped Run B&C took on the 16 Minute Men out in Crooklyn in that game and this one also came down to a last second shot. (The excitement thus far in the 2 AAA games was sensory overload – like when you walk down The Strip.)

A tight affair throughout, the 16MM unfortunately could not get their first ever DL win as Joe Kataoka's last second 3 was off-balance and off-the-mark as B&C snuck out with a win they may not have deserved.

16MM played their hearts out, but B&C, who signed former MIT player Nick Gao at the last second, used his 15 point, 14 board to walk outta the gym alive. (If you leave Vegas with your shirt on, it's considered a win.)

On Sunday, HKT went at it again (just can't get enough once you taste victory) and lambasted LYSE, who just one week prior, looked like the team to beat in the AAA. (What you see is what you don't get often times in Nevada.)

Shooting baskets was like shooting fish in a barrel for HKT as Tony Lau put in 16 points on 8/15 shooting to lead HKT to a 20 point win and a 2-0 start.

Sing was on point again and of course there were indulgent displays of showmanship present. Vegas baby, Vegas.

MIT basketball is not an oxymoron.


Run B&C, like HKT, couldn't get enough of winning and went back to the tables Sunday as well – this time against an experience Jurassic Park team. (If "experienced" implies old, then implications are correct.)

For B&C, if the win on Saturday was like pulling a full house on the river, then Sunday was like getting going to the sports book, laying down $200 on the Giants to cover –3 and watching as Eli Manning throws 5 picks and NY loses by 17.

This game seemed close to some (those who are nice and insist it was an 8 point game for much of it), but it never really was.

JP used their brawn and some of their brains to outperform a Gao-less B&C squad who had too many non-game things going on to truly ever focus and lost by 15.

While Swishy Rassiwalla and Arif Ansari dominated down low – and Andre Liu refused to miss jumpers, B&C had to deal with the fact that this was power forward Ed Keung's final DL game as he's moving to Hong Kong (find Ed Lee of Da Bien and get your games on) and the first game for one of Korea's hottest rising actors in Junsung Kim. Kim is in town shooting Mike Kang's latest film West 32nd St., a Korean gangster film starring John Cho (American Pie, Harold and Kumar) and Grace Park (Battlestar Galactica). With all the theatrics surrounding this team, it was no surprise that they were a little too much show and not enough business.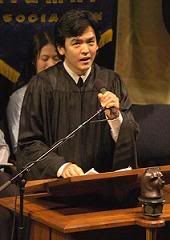 J-Cho & J-Kidd both Cal alumns.


A little Hollywood in the mix? It really is like Vegas.

Finally, the last game on Sunday pitted two Tokyo Conference teams in Bonzai and Rage. While we had gotten lucky with a pair of great games in games one and two of the week, the middle two lacked a little in excitement, but this one brought it all back.

Easy come, easy go.

Bonzai biffed and fell to 0-2 as the Rage clung onto a 33-31 win that was made possible by Rage's flashy one-handed lay-upper Mike Peng's 11 points and Bonzai's Drew Chen's last second trip and turnover that cost his team a chance to tie.

Drew may know Microsoft XL really well, but that play was far from XL-llent.

And so another week was wrapped in the division that no one was sure of. But as with Vegas, when you leave the city after a debaucherous weekend, you can't wait to come back.

We have another to week look forward to. Many more, in fact.

I love this country. I love this game. I love Vegas.

Da Pick Prognosticator

3-2 last week makes me 4-4 overall. I'm gettin' there. I said once I knew every team well, I' wouldn't miss a pick. Last week, I clearly still didn't know a few teams well. But I'm at .500 now so that means I'm moving on up. Watch out Jeffersons, I'm comin' at ya!

Sun Aug 27

Run B&C vs. LYSE Shot: This ought to be a close game. B&C is still learning their way with so many new players and no offensive theories to speak of. Nick Gao will be back in the lineup after missing a week and that will be enough for B&C to take care of business. It'll be a whole lot easier for them if Eden Chuang plays, but if he pulls another no show, no worries - Jun Kim ought to cut down on his travels after adjusting to how the American game is called. Apparently, in Korea, walking is as legal as it is in the NBA. LYSE looked great in week one, wretched in week 2. They'll probably wind up somewhere in between when all is said and done. Inexperience in the DL does them in here.

16MM vs. Picked Last in PE: I keep saying 16MM will get their first win ever in the League. I stand by that prediction. It just won't be this week. (I've been saying that for their first 3 games.) Not to Stan Yeung and Quincy Tso who are the NL's Cruisers' backcourt. Hmm, 16MM will be 0-3 with 6 games left. Runnin out of time fellas, but I have faith.

Bonzai vs. Jurassic Park: Mark my words, JP will be there at the end of this season. They are too veteran, too good, and too big not to be. It's a bit unfair truth be told, but just cause Texas had Vince Young last season didn't mean that opponents stopped playing the Longhorns. This team keeps saying they're old but with Mike Owh and Victor Wu, their backcourt is still in its 20s. Point guard Felix Shen turns 30 this weekend, so, okay, maybe they are. Happy bday Felix!